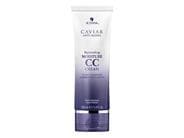 Reviews For
Alterna CAVIAR Anti-Aging Replenishing Moisture CC Cream for Hair
$26.00
24 Results
Ah-mazing
I am in love with this product. The whole line of Caviar products, really. It makes my hair so silky smooth and smells amazing. My all time favorite hair care line. LovelySkin Customer
Verified Purchase
Favorite hair cream
I received this as a sample not long ago. I love how this product conditions my hair. It does not weight it down, leave a film, or strip the color. I have tried many products, many expensive and non-expensive ones, but this one thus far tops even all the name brand hair products. I hope they don't change their formula or discontinue any time soon because I would be heartbroken. Love it ! Healthy, Vibrant Hair
I started using this product when good shampoos and conditioners didn't seem to keep my hair looking as good as I liked. Within the first use, I began to see an improvement in the bounce and shine of my hair! It looked healthy again up until my next salon visit! You'll love it! LovelySkin Customer
Verified Purchase
Works well
Been using Alterna and this product for a few years, and it works great. I use it on damp or dry hair. Will Be Looking For a Replacement
I have been using Alterna's CC Cream 10 in 1 Conditioner for a few years and recently purchased the newly formulated replacement, the Anti-Aging Replenishing Moisture CC Cream. I've used it twice now, and there is a difference. Applied to damp hair as before, and proceeded to blow dry and style my hair. The brush began to drag thru my hair felt like glue. Definitely not good for my fine, color-treated hair. The finish was dry looking, no shine, and the ends were not smooth. The tube is smaller, and it's not cheap. Very disappointing when a great product is replaced by an inferior one! PinkLipstick
Verified Purchase
Very Drying
I did not like this product. It made my hair dry out even more. It took awhile to figure out that this was the culprit, but after I quit using it, my hair bounced back. LovelySkin Customer
Verified Purchase
A little goes a long way
Perfect for adding moisture and body to my dry, thinning wavy hair. NicoleLynn
Verified Purchase
Alterna
This is a repeat purchase for me. I love that this leave-in treatment covers so many needs in one product. It smells so clean and fresh and leaves my hair soft, manageable and shiny. I highlight my hair and this helps to protect my color as well as protect my hair from further damage. LovelySkin Customer
Verified Purchase
Best Product Ever
It's the only thing I've found to control my thick hair in Southern Florida. No more frizzy, wild hair after using this. It's perfect! LovelySkin Customer
Verified Purchase
The Best
Alterna CAVIAR CC Cream 10-in-1 Complete Correction is all it claims to be! Tames frizz and even provides UV protection. Leaves my hair soft. Love it! LovelySkin Customer
Verified Purchase
Great Leave-in Product
Love using after shampooing and before styling! LovelySkin Customer
Verified Purchase
Perfect for everyday use. Lightweight with a pleasant smell.
I loved everything about this product for my hair (fine, wavy) except for the lack of control in humidity. Lovely for easy, everyday use in low-humidity climates for my hair type. LovelySkin Customer
Verified Purchase
Alterna Caviar Cream
I have fine, color-treated hair that frizzes in humidity. This product is sooooo good! I use it every day and my hair is soft, shiny, and frizz-free. I've used oils, leave-ins, and nothing beats this. Great product!
I have fine hair that I have to wash almost everyday, so I can't use oily products/ am sensitive to products making my hair look greasy. This is the perfect solution! It protects my hair from heat or give it an extra shine if it's looking dull (after dry shampoo) without looking greasy! Worth the money. LovelySkin Customer
Verified Purchase
Soft control
This is the best after blow dry setting cream. Silly hair must!
I love to put this all over my wet hair after the shower, then blow dry. I put a nickle sized cc cream as a finishing cream. It is so convenient. This product leaves my hair silky smooth & healthy looking!! Highly recommend!! Awesome product
This product is amazing. I have used this for years. I am so happy that LovelySkin carries the Alterna brand now. Awesome hair corrector
I have fine hair and lots of it, and my hair is very susceptible to frizz when exposed to humidity. This leave in hair corrector tackles my hair issues in that it calms the frizz, protects my hair from the heat of blow drying but does not weigh it down. Two thumbs up in my book! Only thing i use in my hair!
I have super long and fine hair that gets tangled the second I step out of the shower. My hair is always knotted and snarled, so I kept buying spray leave-in conditioners and other creams that were supposed to keep my hair soft and smooth...nothing worked. I kept seeing YouTubers talk about how good this CC cream was so I decided to buy it and see if it would help my hair. Let me just tell you....Life Changer!!! After I get out of the shower, I towel dry my hair and use my wet brush to brush out the ends gently. Then I use about a chickpea size amount on the ends of my hair and brush it again to distribute the product all over. If you use too much, it will make your hair greasy and heavy. But with the right amount and my hair is soft, smooth, detangled, and bouncy! I LOVE this stuff and will not use anything but on my hair!!! If you have the same issues I did, then you seriously need this! It is a little pricey but worth it! Plus it smells amazing too! LovelySkin Customer
Verified Purchase
Great product
Love this product. I put it on damp hair, style and go. It's lightweight and leaves no residue. Great leave-in hair product
I really like Alterna hair products -- and this one in particular is my favorite. It absorbs quickly and easily into damp hair and it doesn't leave any residue or crustiness once the hair is dry. It nourishes my fine hair without making it look or feel greasy. It also smells wonderful! LovelySkin Customer
Verified Purchase
This is amazing!
I have dry hair due to coloring, heat styling, age, etc. This product made my hair sift without weighing it down. I will definitely purchase again! LovelySkin Customer
Verified Purchase
Love!
This makes my hair so healthy! This Caviar Cream Really Works!
I have tried a lot of products for my thick, curly/wavy and at times unruly hair. Nothing helps calm the frizz here in the Pacific Northwest like this product--the only thing that comes close is Bumble and Bumble! It also smooths hair and makes it shiny. Have not tried a straightener yet to determine its protective qualities, but will in the next few weeks. You also don't need to use a big glob--a little goes a long way! Not giving it a 5/5 yet because I have not tried it with a hair dryer/flat iron.