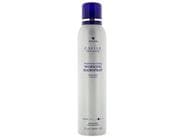 Reviews For
Alterna CAVIAR Anti-Aging Working Hairspray
$24.98
Long time user
Love this hairspray for finishing off my blown dry fine hair. Then can still play with it before application of stronger-hold spray. Nice job of holding my style for a few days with minor touch ups. Love It!
This hairspray holds your hairstyle without being stiff. I LOVE IT!!! Will definitely buy again. Great Hairspray
I have medium length, color-treated hair. I use a curling iron to add soft waves/curls and then use this hairspray to set the style. My hair looks great, and the curl hold until the next time I wash and style. There is no build up or stickiness if I use it the next day and my hair feels soft but no flyaways. Really great soft hold hairspray! LovelySkin Customer
Verified Purchase
Alterna Caviar working hairspray
This is absolutely the best hair spray I have used. It holds your hair in place without being stiff and smells amazing. I first tried this as part of a travel set, which I loved but sadly have been unable to find it again. Also, I use the Caviar shampoo and conditioner, which are equally wonderful. Once you try the Alterna Caviar products, you will see that they are superior to anything else on the market! LovelySkin Customer
Verified Purchase
Everyone needs "working" hairspray
I have long hair that needs movement not stiffness. This is the hairspray for the job. Helps keep curl and shape with seeming like hairspray. I've recommended it to several friends. LovelySkin Customer
Verified Purchase
Best Hairspray for Fine Hair
I've been using this product for years. Great hold yet I can still run a comb or brush through it. LovelySkin Customer
Verified Purchase
LOVE
This has been my go to hair spray for years! I've tried all of them... I am a retired hair dresser so yes ALL of them! It gives a good amount of hold for those fly-aways but yet is not stiff OR sticky (if you need a touch of crunch it works great with Kenra firm hold hair spray-) Caviar working hairspray gives my hair bounce & shine along with a pleasant light scent. LOVE my Caviar Working Hair Spray! LovelySkin Customer
Verified Purchase
Did just what I wanted
Provides body and hold for my hair but doesn't cause my hair to be stiff. Love this stuff. Would be perfect if it didn't have quite so strong a smell, but I'm very sensitive to smells. Also, the smell does go away after a while. Will buy again. LovelySkin Customer
Verified Purchase
Great hairspray
This is a wonderful light hairspray. Isn't sticky or gooey.. I've been using this for a long time and very satisfied with the fragrance and end results. LovelySkin Customer
Verified Purchase
caviar working hairspray
very good light hairspray - brush after using. LovelySkin Customer
Verified Purchase