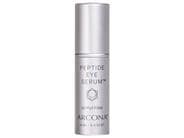 Reviews For
ARCONA Peptide Eye Serum
$52.00
Favorite Eye Serum
I am definitely a fan of Arcona's Peptide Eye Serum. Have used this about 6 years and it is my favorite eye product. I apply it all around the ocular bone after toning then pat it in place with light tapping finger touches, making certain to cover the under eye area. I apply it on the lines between my eyes. This is a morning and evening application before other moisturizing products. LovelySkin Customer
Verified Purchase
Arcona Eyes are fine:))
I keep this one in the fridge for added benefit and sensation! I am still trying to figure out if this performs better than two EyeDews... never the less, Peptide is thinner and absorbs faster (than Eye Dews) so better for under makeup and a refreshing pick me up any time. Fayethfull1
Verified Purchase
Hydrating
Spreads easily & one drop will take care of under & upper eye lid. Does not irritate & suitable for sensitive skin. Hydrating & fine lines are less noticeable. The only negative is the size of product & wish that it was larger. All in all I am pleased & this serum is priced well compared to other eye products. Highly recommend sassycat1
Verified Purchase