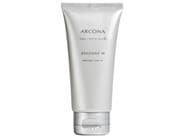 Reviews For
ARCONA ReOzone SPF 40
$30.00
My absolute favorite sunscreen
I love this sunscreen. For a while, Arcona discontinued it for 'reformulation', I think because it would clump up and lose its texture in weather over about 90F, if the bottle was shipped in summer or stored in a car or something. Anyways, the texture is amazing it's one of the only non-greasy high SPF formulas I have ever found. The tint is great for helping to avoid the white-casting effect of mineral sunscreen, though it is not completely canceled out (it's similar to wearing a Bb cream IMO). Definitely going to be a little off for darker skin tones, but if you're fair to medium, this is an amazing sunscreen for everyday wear. I use this alone without any foundation, and feel like it does a good job of evening out skin tone, but I think it would layer nicely under makeup for those who wear it. A bottle lasts me about 2-3 months, I use on face, neck, and backs of my hands every day. Worth the price, a little goes a long way :) essential if you're in a constant max UV zone like us in AZ. biopchem
Verified Purchase
New re-formulated ReOzone is really great
It took Arcona a couple of tries but their new version of ReOzone SPF 40 is really great. I've used Arcona for many years and like their natural approach to skin care. This product is another great addition to the line. JerryParker
Verified Purchase
Arcona sunscreen
I think its good sunscreen but it didn't work for my sensitive skin. LovelySkin Customer
Verified Purchase
Best SPF for rosacea
I have tried at least 10 tinted SPF for my rosacea, and this product is the only one that works. It does not cause any irritation, plus it has a mild tint that camouflages the rosacea. The price is reasonable, and a little product goes a long way. LovelySkin Customer
Verified Purchase