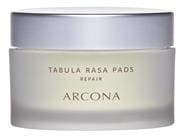 Reviews For
ARCONA Tabula Rasa Pads
The best ever
These pads make my skin anew I have forwarded these to so many friend we are addicted LovelySkin Customer
Verified Purchase
SEEMS TO BE WORKING!
I cut the pads in half before using since I only use them in one or two areas. I like using them before cleansing my face in the evening. At first, it seemed that the product brought out some small impurities in my skin. Now the red blemishes on my chin are definitely paler and seem to be shrinking. Be careful when opening the jar, the odor is quite potent! LovelySkin Customer
Verified Purchase
Great Toner! Love this with ALL ARCONA BLEMISH products
At nearly 50 years old, it is sad to say that I need a product like this! After three days of use, Tabula Rasa , Night Breeze, AM Blemish lotion and PM Blemish lotion... almost completely healed of red, bulbous, inflamed acne:)) We use The liquid TR and the Pads. The pads a are large, large enough to cut in half if you only need it for your face. One of my daughters uses the pads because she uses it on her back, neck, chest and scalp area. She uses one morning and one at night. Thank you Arcona!!! BTW my three daughters love Arcona, and they have cystic acne, been on loads of Rx meds and OTC treatments. Yay, Arcona! This one does have a medicinal stronger scent, which I like for this circumstance (acne) and the results are incomparable! BTW, I have oily skin with large pores but also ROSACEA and sensitive reactionary skin. I can use this product for occasional acne without a problem. LovelySkin Customer
Verified Purchase