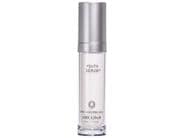 Reviews For
ARCONA Youth Serum
$90.00
Good Product
I use this product every other night and would recommend it to anyone trying to reduce hyperpigmentation. After using this product for several weeks, the hyperpigmentation on my face has been dramatically reduced. I have also noticed a decreased appearance in the fine lines around my eyes and mouth. LovelySkin Customer
Verified Purchase
keep buying it despite packaging flaws
I have bought this product four times over the past couple of years. It is a good product, I feel. I use a few different things on my face...heck, I am 68, and want my skin to continue to look as youthful as it does....I am not sure I can specifically say that this one product has helped more than the others that I rotate. It is a thin solution, so I usually pump into the palm of my hand. Otherwise, it can definitely slide between your fingers and waste product. It soaks right in, with no stickiness. My biggest issue is that for whatever reason, the pump starts leaking around the outside of the container. So annoying, since it is expensive. However, I still buy it. I do feel that it gives my skin benefit. LovelySkin Customer
Verified Purchase
Very Oxidized
This serum was a terrible disappointment. I was thrilled to see a phenoxyenthanol-free AA Vitamin C Serum that also had other wonderful antioxidants. Unfortunately, it was very orange and clearly oxidized. It is in an effective pH range. I returned it. This is my 3rd purchase of an Arcona product, and I have been unimpressed by everything I've tried from this range. The ingredients look stellar, but the products just aren't. BirdieKitKat
Verified Purchase
Will continue to use.
I have been searching for a non-toxic vitamin C serum that contains L-ascorbic acid so I was happy to find this. I can't say I'm seeing a big difference because I have not been using it very long and I have always used a vitamin C serum so this ingredient is not new to my skincare regime. I do wish it was clear in color because I like to make sure my C serums have not oxidized. It does not have tremendous slip so you do need to quickly apply to get the serum evenly distributed on your face. LovelySkin Customer
Verified Purchase