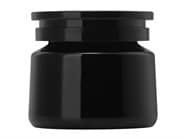 Reviews For
ARgENTUM la potion infinie Restorative Day & Night Cream
ARgENTUM Restorative Day & Night Cream
I bought this because of the ingredients. My order arrived quickly and I was excited to try it that night. I first noticed the fragrance, which is absolutely wonderful, may I say that again, wonderful? I had an applicator stick that I could use to get the cream out of the jar, as I don't like putting my fingers into the jar and prefer a sealed container with a pump. I took what I thought would be enough to cover my face but, discovered I had to dip into the container for a bit more in order to finish covering the rest of my face and not nearly enough to apply to my neck area. I used this product each morning and at night. I loved how it felt on my face, very soft, smooth, and hydrated. It spreads nicely over your face and not sticky. The downside is, as much as I would love to continue using this product, the cost for the amount of time it will last me, is not affordable, and may I say I am not using that much. I'm not in a high enough income bracket, so, for me, even though I really like this product, I simply can't afford it. I think this is a wonderful product for women looking for good quality products and a company that stands behind their name, however, not everyone has a budget for products such as this. I was really happy to find a coupon that made it a bit more affordable for me to try, but even with that, it's hard for me to justify buying again. If money is no object for you, I urge you to try this out. You won't be disappointed. LovelySkin Customer
Verified Purchase
Silver property is nice, too light of a moisturizer
The silver property is very nice! I have very oily skin and I think this is too light of a moisturizer and have to use a second moisturizer.