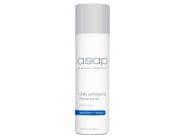 Reviews For
asap Daily Exfoliating Facial Scrub
Love my new scrub!!
I am very happy with this scrub. It makes my skin feel so soft. I also feel like the overall appearance of my skin has improved! This is now a regular part of my skin routine. LovelySkin Customer
Verified Purchase
fav face cleanser for acne prone skin
This is by far my fav cleanser! I use it every night as part of a double cleanse or twice a day when my skin is bad - I have acne prone skin. Tried going off this cleanser and using something gentler for about a year and my skin was terrible so like nope. This cleanser for life! LovelySkin Customer
Verified Purchase
Asap Daily Exfoliating Facial Scrub
I have been using the ASAP Daily Exfoliating Facial scrub for a year now. It is a gentle scrub you can use daily. It keeps my skin clear and soft. I would highly recommend this product. TammyAdams39
Verified Purchase
The Smoothest Skin
I started using the ASAP facial scrub several years ago and at the same time my husband started using it. I use a lot of products on my skin but he had never used anything but regular bar soap to cleanse his face. Once he started using the ASAP scrub he was so surprised at how good his skin felt and how smooth it was! He has been using the product daily for years now and can''t live without it. I love it too! LovelySkin Customer
Verified Purchase
asap exfoliating facial scrub
Again, my mom uses this product, and she has beautiful skin. I too decided to use the product from her recommendations. I use the scrub at night after a long day. I like it while in the shower to get that extra clean from makeup and the environment. It seems to do the trick. LovelySkin Customer
Verified Purchase
Used to love this
I used to love ASAP daily exfoliating scrub, but the little scrubbing beads seemed to have changed. They now disintegrate as you're using it into just foam. So I'll be looking for something else. LovelySkin Customer
Verified Purchase
Not Bad at All
3.6 stars would be ideal. I haven''t noticed a huge difference with this exfoliant... I prefer my "Checks and Balances" by Origins to be honest. Was hoping for a general re-surfacing treatment. It''s good, but not "oh my god man let''s buy 5" good. LovelySkin Customer
Verified Purchase
Excellent Facial Scrub
Great exfoliation product! Improved the texture of my skin and minimized the appearance of pores. Highly recommend! Fantastic cleanser
Loved this product for a long time, was worried when we moved to the US from Australia that I wouldn't be able to source it! Leaves my skin feeling smooth and bright and gentle enough to use daily! LovelySkin Customer
Verified Purchase
Tried and true
I recently changed to a different face wash after using the ASAP line for years as I moved overseas and couldn't find a distributor. As a result I broke out terribly and was incredibly frustrated. I managed to get my hands on some ASAP again and my breakouts have cleared up beautifully. And it only took a week! I learnt my lesson and I'll be sticking with this product for the foreseeable future! It lasts for ages and I love that it gently exfoliates my skin. LovelySkin Customer
Verified Purchase
Best Daily Scrub
Love this product. Have been using it for years. Best scrub for daily use as it's not coarse. LovelySkin Customer
Verified Purchase
Great Product
The exfoliating in this product is great, I use it every night, my skin feels so much better. I apply the asap moisturizer afterwards LovelySkin Customer
Verified Purchase
Good choice!
This is the first exfoliant that is gentle enough for my skin, yet actually does the job. The small beads are not abrasive on my skin. I use it every other day and my skin has shown a marked improvement. LovelySkin Customer
Verified Purchase
Love this scrub
The "secret" to this wonderful scrub seems to be the combination of microbeads and AHAs. I havent found that in other scrubs, and Ive tried many, including pricier ones. The microbeads plus AHAs seem to increase the exfoliating effects. The result is super-smooth skin. Ive noticed improvement in skin tone and pore size, too. I feel the results come close to a professional microdermabrasion treatment, so while the price is on the high side, I think you get value for your money. As with all high-quality products, a little goes a long way. I expect my bottle to last me several months. LovelySkin Customer
Verified Purchase
Great product!!
Reasonably priced, isn't too rough on sensitive skin. Seems to exfoliate well. I use this in the AM to prep my skin before using other antiaging products.