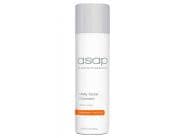 Reviews For
asap Daily Facial Cleanser
Love it !!
My favorite cleanser. It doesn't irritate or dry out my skin it cleanse so well. Samaher
Verified Purchase
Very good product
I use this cleanser about two months now and I can say it is really good for my skin. It exfoliates while cleansing but it's gentle enough too. I have acne prone skin and helps my skin to stay clear. Heidelina
Verified Purchase
asap cleanser
My mom uses this cleanser, and she has beautiful skin. So, I decided to try it. A little cautious because my skin will break out with certain products. However, no problem with breakouts, and my skin feels very fresh and clean after product use. LovelySkin Customer
Verified Purchase
Best Face Wash I''ve ever used!!!
I started off with the asap Super B serum and loved it so much I decided to try this when I ran out of my Origins Checks and Balances cleanser. THIS STUFF IS INCREDIBLE!!! The texture of it is absolutely incredible, a little goes a really long way. I can confidently say I have try everything but since using this my skin has never been better. The super B serum worked great before, but when in conjunction with this, my skin absolutely glows. It doesn't dry your skin out at all, just leaves your pores clean and skin dewy. I will definitely buy this again and will purchase the daily face exfoliator next. I'm SO SO happy I finally found a brand that really works with my skin and isn't loaded with chemicals. LovelySkin Customer
Verified Purchase
Incredible Australian Product
I have looked for something similar at Sephora....I gave up. This clears my skin so well... If you have oily older skin with large pores, try this. Helps so much. LovelySkin Customer
Verified Purchase
Nice product
This is the first time I have tried an A S A P product (and first purchase from LovelySkin.) This is a very good, and easy to use cleanser. I would like to try other A S A P products. LovelySkin Customer
Verified Purchase
Amazing cleanser! You will be very satisfied!
Like all of the ASAP product line, the ASAP Daily Facial Cleanser is absolutely amazing. I have been using all ASAP products on my skin for 1.5 years. I will never turn back! I always get compliments on my skin, and owe a great deal of the credit to ASAP. It is a very highly regarded brand in Australia. You only need to use a little bit of product when using, make sure to add a small bit of water, and be sure to cleanse the skin for 30 seconds. This is the way! Works best with the rest of the ASAP skin care system. Enjoy! LovelySkin Customer
Verified Purchase