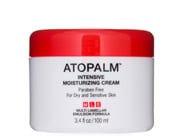 Reviews For
ATOPALM Intensive Moisturizing Cream
Great for sensitive skin
I like this product a lot. I put it on after washing my face, and then I use sunscreen on top of it. My skin is super sensitive, and I haven't had any problems using this. LovelySkin Customer
Verified Purchase
Atopal intensive moisturizer
I have used this for years for my rosacea and very sensitive skin. It works wonders on dry skin leaving it soft and you can definitely use it during a rosacea flare up. LovelySkin Customer
Verified Purchase
Excellent moisturizer
I originally received this moisturizer as a sample and used it on my face. It has turned out to be my absolute favorite facial moisturizer. It is thicker but not too heavy by any means. Very hydrating. Also excellent to use on any dry skin areas on the body. LovelySkin Customer
Verified Purchase
Rich...but not too much
This is a heavy moisturizer that really soothes my skin and doesnt make me break out. I like to use it at bedtime my skin looks better in the morning. Good price for a quality product. Recommended. LovelySkin Customer
Verified Purchase
Especially Great for Sensitive, Dry , Mature Skin
Ive used Atopalm for the last couple years to help hydrate my sensitive skin in the mornings before using a tinted moisturizer and alone at night. Ive found it to be a reasonably inexpensive treatment, thanks to LovelySkin, that nourishes my skin. LovelySkin Customer
Verified Purchase
Good for irritated skin
I like to use this at an appropriate time after laser procedures, or when I had been a little too enthusiastic in my skin care routine. I also check out the vendors site and am going to suggest for my husband to use for dry irritated skin that is very itchy and is red from scratching. He has tried many other products. The picture shown as well as the explanation of the products function makes a lot of sense. Great for sensitive skin!
My son (19) had acne as a teen, was on accutane and seems to have dry skin now. The only face cream that doesn't sting or irritate his skin, especially after shaving is Atopalm. He is in college and always texts when he's due for a refill:) Very Gentle - Works Great
I tried this and love it. It is very moisturizing without being greasy. Also, it was very soothing. LovelySkin Customer
Verified Purchase
Moisturization at half the cost
Terrific product. I have sensitive skin and my dermatologist recommended this product to me because of the hydration it gives. My husband, son and I all use it and love it. Not greasy, light feeling and it works wonderfully, especially if you have rosacea. LovelySkin Customer
Verified Purchase
Great for sensitive skin
This cream does what the most expensive creams do for a fraction of the cost. It is really great for super sensitive skin. LovelySkin Customer
Verified Purchase
Corrected damage from glycolic acid
I recently used a glycolic acid wipe for my face and neck. My neck broke out in multiple tiny bumps like chicken skin and was very rough. I tried many things including a prescription prednisone cream, but nothing helped. My neck was raw. I ordered the Atopalm Intensive Moisturizer Cream and patiently waited for delivery. After 2 days of application the rash is gone. I have used this on my face in between other "drying" treatments to keep it well hydrated. I makes my skin soft and supple, removing dryness and irritation. LovelySkin Customer
Verified Purchase
One of the best for sensitve skin
I have been using this moisturizer for 4 years and will continue to use it forever. I have sensitive rosacea prone skin and have had no irritation. My skin is very hydrated and redness is no longer a problem. My 90-year-old grandmother with very sensitve skin loves this product.I also use the foaming cleanser. I'm so glad lovelyskin carries this line now. LovelySkin Customer
Verified Purchase