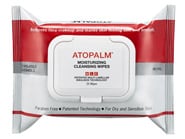 Reviews For
ATOPALM Moisturizing Cleansing Wipes
Great makeup remover
Yes these wipes are moisturizing, but they also are great at removing makeup and doing so gently....even removing eyeliner and mascara. LovelySkin Customer
Verified Purchase
The BEST cleansing and moisurizing wipes ever found!
Truly, I bought these at my dermatologist, and have only been able to find these on line, and buy 3-5 packs at a time. They are so luxurious, dont dry out your skin and even removes my eye makeup. I only use Lancome to eye makeup remover, and when im traveling these wipes do the trick. Love this!!! I do cheat at night sometimes and use them to clean face when utterly exhausted. Also a great buy here :) best for daily/nighly facial cleansing + makeup removal without ever feeling dry MUST HAVE
PRICE OF DRUGSTORE FACIAL WIPES BUT SO MUCH MORE TECHKNOWLEDGEY!!! i have these wipes plus a spare at all times at my home. i use them to wash my face daily & to take off makeup even stubborn eye products with no stinging as i am chronically ill. i have very sensitive skin + a type of eczema &have used these wipes for over a year now. with the use of these wipes it is so easy to keep my face clean & make sure my treatment products get onto face everyday/night . they do not make your skin feel tight/dry/stripped after using you face feels freshly cleansed. if it summer or you are super oily you may not need to apply a moisturizer after using one of these wipes but it just depends where you are in your skin care routine.I WILL NEVER BE WITHOUT THESE WIPES PLUS THE COST IS GREAT!THANKS ATOPALM. LovelySkin Customer
Verified Purchase