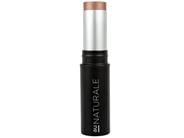 Reviews For
Au Naturale The All-Glowing Creme Highlighter Stick
Slightly shimmery and sheer
This review is for the highlight color Rose Gold. Rather than using this as a highlighter I have been using it as a blush. For a medium to light skinned person (I use Lucerne crime foundation shade) this is actually a very nice color for blush. It has a tiny bit of shimmer but once it's blended in it's not as noticeable. I don't think it would work well as a highlighter unless you're a darker skinned person and are OK with shimmer / sparkle in your highlights. Buildable color as it goes on somewhat sheer. Overall it's a great product and it stayed put all day. It'll do.
I like the ingredients, that's the main reason I tried it. The consistency is a little too hard and thick, for lack of the right words, for my approval. I dab a very small amount onto my pinkie and sweep it over areas to highlight. It does the job, but the glitter quotient is a tad much. Immediately sets into your pores if you over apply, thus the pinkie method. The plus side is that this stick will last me the rest of my life because so little is needed for the effect. LovelySkin Customer
Verified Purchase
Great product!
I use this in place of blush, and I've been really happy with it. It provides some good definition/contouring for my face shape. It looks more natural than many other options since my coloring has pink undertones. It goes on easily and stays on, as well. I love that it's safe for my skin. LovelySkin Customer
Verified Purchase