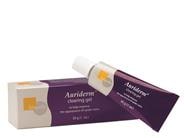 Reviews For
Auriderm Clearing Gel
$53.00
Great post procedure.
This lightweight cream helps bruises to disappear faster after botox, injections, lasers. I use it 2-4 times a day, massage it in and definitely I see faster healing results. Marlena
Verified Purchase
Helps tiny red veins around nose
I have very fair skin and suffer from red spider veins around my nose, under my eyes and just above the corners of my mouth. Had to use gobs of makeup to hide the redness. Had laser treatments done on the veins, but they always returned and I had to keep repeating the treatments. Have been using Auriderm Clearing Gel and Vanishing Gel now for years. Clearing Gel has 2% and Vanishing Gel 1% of the active ingredient Vitamin K Oxide. Both work well for me. The veins aren't completely gone, but I no longer have to apply concealer to those areas. It removes spider veins!
I have been using it for about a week or so. I can visually see the difference on my spider veins. I expect continuous use will remove spider veins completely. LovelySkin Customer
Verified Purchase
So Far So Good!
I had a vein ablation treatment and saw this and thought Id give it a try. Ive only used it about 6 times but I am seeing some good results. Keep in mind it could also be from my vein treatment itself, however the Auriderm may also be a factor in aiding a positive healing process. Thanks LovelySkin for having this product! :) LovelySkin Customer
Verified Purchase
It is used to produce an effect
After a week of continuous use, my legs smooth, vein color alleviate. LovelySkin Customer
Verified Purchase