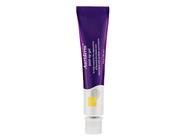 Reviews For
Auriderm Post-Op Gel
$30.00
On-the-fence
I bruise easily and tried this product after fillers. It did seem as though my bruises healed more quickly than when I have had fillers previously, so I am glad that I tried it. It is difficult to determine, however, if it was the product or other factors involved that may have contributed to the faster healing. I will use again should the need arise, as I am certain the the ingredients are beneficial in healing and nourishing for the skin. LovelySkin Customer
Verified Purchase
not sure it does anything
I tried this for a recent filler procedure. I had significant bruising which lasted about a month, even when using this twice per day. It is hard to imagine that this made the bruising fade faster than normal. I also use under my eyes. My derm said my dark circles are due to collapsed blood vessels (or something like that). He suggested I use this, along with teamine. I still have the dark circles, but they may have faded just slightly after about five months of use. At least this makes me feel I am doing something about my dark circles. LovelySkin Customer
Verified Purchase
Not sure about this one
I had ptosis surgery and got the ok from my Dr. to use this product. I don't heal very nicely (something in the genes?) I need a second surgery, but my Dr. said anything with vitamin K CAN be helpful. LovelySkin Customer
Verified Purchase
Don't Recommend
I was really hoping this would be a good product and would aid in the healing for my bruised under eyes. Not so, did not help with the discolorations at all. Not worth the money. LovelySkin Customer
Verified Purchase
Great Product!
This product is great for reducing bruising immediately after procedures...especially sclerotherapy and fillers. All you need is a small amount to make a big difference! LovelySkin Customer
Verified Purchase