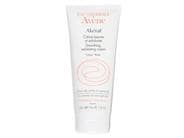 Reviews For
Avene Akerat Smoothing Exfoliating Cream for Body
$32.00
Makes rough skin soft
Makes rough dry skin soft and helps with acne LovelySkin Customer
Verified Purchase
Great Product
Love this product! I use it after dermatology treatments. Very soothing to skin. Also its great in the winter or whenever my skin is extremely dry. I've tried many spa products, but this works best for me! Arizona
Verified Purchase
Avene Akerat Smoothing Exfoliating Cream for Body
Love this cream! My skin feels smooth all day long. Just ordered my second one. LovelySkin Customer
Verified Purchase
This product works!
This product is amazing and it really works! It leaves my skin super soft with a nice glow! It doesn't feel greasy or have a bad smell. Holly23
Verified Purchase
Relieves extra dry skin on heels
My heels get very dry and tend to crack in the winter. When I use this year round, it helps heal and prevent this from happening. I recommend using it after you shower and wearing socks to allow the cream to soak in. LovelySkin Customer
Verified Purchase
Avene Akerat
I had a bad case of eczema and my dermatologist recommended long term use of this creme and it has been quite successful. LovelySkin Customer
Verified Purchase
Good product
I really like this product, except for the scent. LovelySkin Customer
Verified Purchase
Avene Akerat Smoothing Exfoliating Cream for Body Rocks!
This cream for your body is so Amazing! It is so full of moisture for your body's skin, and leaves it soft but not greasy. It helps balance combo skin and will help all kinds of dry skin, as well. I would absolutely order this product again. I find the entire Avene line to have saved my life. I had 0 problems with my skin until recently and had tried cream after product. I swear that Avene is the one product that does it all. It is so gentle on especially your body including back, that I will never use another brand again. I am not just saying this, I mean it! I first found Avene in my skin Dr.'s office, and then saw a review of it on YouTube and had remembered that I purchased a product...I immediately re-ordered almost the entire line from this site! My skin is calmed-down, less red and feeling happy these days! Thank you Avene! LovelySkin Customer
Verified Purchase
Great Product
I have kp on my arms and usually use Retin-A to control it, but since I am breastfeeding, my dermatologist suggested Akerat as a safe alternative. I was skeptical in the beginning, as most kp products don't work for me, but this worked great. I use this with Glycol Exfoliating Wash and I am really happy with the results. LovelySkin Customer
Verified Purchase
Love This Cream
I was looking for a cream to help reduce the KP on the back of my arms and have been looking for something that doesnt smell terrible and works for years. I have used the Prescription creams which smell awful and the Urea creams which also smell weird and leave a white residue on my skin which transfers to clothes etc. which I hate. This cream is AMAZING. In just a couple of weeks of using in every morning and evening before bed I have noticed marked improvement. My skin is smoother than it has ever been with at least a 70% decrease in bumps and although the little red dots dont completely disappear with this cream they are so much better I can hardly notice them at all after a few weeks of use. I also LOVE the smell which is light and amazing so I dont forget to use it ... I Love to use it! I will say that in my experience if I go a day or 2 without using it the KP bumps will slowly return so I plan to stay on top of it 2x a day. By far my favorite KP lotion out there!! LovelySkin Customer
Verified Purchase
Great moisturizer for dry skin
I purchased this product for my KP based on the glowing reviews I read on other websites. Unfortunately, it seems to cause more keratin plugs on my arms and legs (the last thing KP sufferers want). It is, however, a wonderful moisturizer for my non-KP riddled skin and smells lovely. LovelySkin Customer
Verified Purchase
Great moisturizes
Works well for dry chapped skin