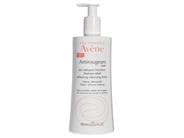 Reviews For
Avene Antirougeurs CLEAN Redness-Relief Refreshing Cleansing Lotion
$24.00
Foul Smelling
I like that it is less synthetic. But it has this chemical/plastic-like smell to it that I could not handle. No thank you. I will either go back to their mineral oil base or go with a different brand. Great Cleanser for Sensitive Ski
This cleanser is great for my sensitive skin. It's not drying in the least, removes makeup very well, and it doesn't have any ingredients that would irritate the most sensitive or rosacea-prone skin. Avene products are my all-time favorite. LovelySkin Customer
Verified Purchase
Protects and calms redness
Avene Antirougeurs Redness-Relief Cleansing Lotion is more than just a cleanser. It removes makeup gently and offers immediate relief to Rosacea prone skin. My face feels clean and soft - no tightness or dryness, just instantly soothing. It is also fragrance-free, hypoallergenic and protects my skin from flare ups. LovelySkin Customer
Verified Purchase
Wonderful cleanser!
This is a super creamy lotion soap that is great am or pm. It's not the best at taking off makeup, but a follow up with micellar would help. I use it primarily in the am when I wash my face. I have very sensitive skin acne prone (hormonal) and rosacea. This causes no adverse skin issues and is calming. The old version used to have a green tinge, this does not, but still works the same. LovelySkin Customer
Verified Purchase
Perfect For My Sensitive Skin
Avene Antirougeurs CLEAN Redness-Relief Refreshing Cleansing Lotion is perfect for my sensitive complexion. I'm a senior with rosacea. Avene CLEAN Cleanser is effective removing makeup and always calms before I apply either morning or evening moisturizers. I also appreciate the LovelySkin REWARDS program. Thank you. LovelySkin Customer
Verified Purchase
Love this product!
My aesthetician introduced this product, and I love it. It can be used with or without water. It leaves my skin feeling cleansed and hydrated. It has a subtle pleasant scent. And, it's a reasonable price point. I have one inside the shower for the mornings, and one by my sink to wash my face before bed. I don't even have to rinse it off at night. If I put too much on, I just tissue it off. It's great for makeup removal, too. Love this product and I would highly recommend it. Perfect for sensitive or normal skin. Wish they had a travel size so I could bring it on all my work trips. LovelySkin Customer
Verified Purchase
I use this everyday
I've been using this product so long that the design of the bottle has changed twice since I've been using it. I have rosacea which is why I started using this product over 4 years ago. I got the larger size because why not! It's great! LovelySkin Customer
Verified Purchase
Great Cleanser for My Too Red Cheeks
I'm very happy with this cleanser. It doesn't irritate my sensitive skin and seems to be improving the overall redness I suffer from on my cheeks. LovelySkin Customer
Verified Purchase