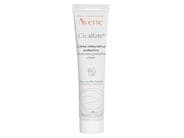 Reviews For
Avene Cicalfate+ Restorative Protective Cream
Avene Cicalfate+ Restorative Protective Cream
I love this product and hope it is again available soon. It is the most gentle and protective product I have found. I use it on my face and under my breasts. On my face it requires a gentle hand and a little goes a long way. It is thick and white has to be gently spread and rubbed in. It and completely disappears leaving no trace of oil or shine. However there is a protective coating that lasts until I wash my face. Under my breasts it is the first thing I have found that prevents the rash that has been my companion off and on for years. There is no scent, a requirement for me and it does not stain my clothing. I highly recommend this cream. LovelySkin Customer
Verified Purchase
My teenage daughter loves Cicalfate!
My 18 year old daughter has very sensitive skin, uses a topical RX for acne, and is obsessed with Cicalfate. I have introduced her to other moisturizers but she continually goes back to Cicalfate. Even after her dermatologist told her Cicalfate is more of a recovery cream to be worn at night, she still uses it in the morning before makeup. I must say, her skin looks fantastic using this product every day. LovelySkin Customer
Verified Purchase
Magic stuff!
This is magic healing stuff. Any irritation, post procedure redness, dry patches or generally stressed skin it fixes. Always have a tube on hand! Fantastic restorative cream!
I am using this Avene Cicalfate cream for acne scarring and enlarged pores on my face and wow, what a difference. The scarring is slowly fading and the pores are becoming noticeably tighter - what a godsend this cream is! Soothing
Soothes and calms my skin when it's irritated and dry. LovelySkin Customer
Verified Purchase
Great for maskne and perioral dermatitis!!!!!!
For the past 8 months (mask wearing season) I have developed a stubborn case of perioral dermatitis - a painful rash around my nose and mouth. I tried two prescription creams and the next step was to go on months of antibiotics which I was not yet willing to do. After some searching. I found this cream and within a few days to a week my skin looked soooo much better!! Now I wear it as a protective layer under my mask and when I do my skincare routine that night, I also use it in my problem areas. Would not necessarily recommend as an every day moisturizer (it is a bit thick) but for maskne prevention/treatment, POD, stubborn dry spots, hypersensitive skin—you must try this!!!! LovelySkin Customer
Verified Purchase
Soothing and Healing
I got this to help restore the skin around my son's mouth after he developed perioral dermatitis from asthma treatments and it looks to be working beautifully. Knisholm
Verified Purchase
avene cicalfate+restorative protective cream
This product saved my neck I used a tripeptide-r neck cream which burnt my neck so bad. This cream is the only product that helped stop the burning and redness I highly recommend avene cicalfate protective cream it is a winner. neelarose
Verified Purchase
ust as good as the original
I realize they changed the formulation slightly for this "plus" version. I don't notice any difference when using it - still provides great protection and healing for dry and damaged skin. LovelySkin Customer
Verified Purchase
Avene Cicalfate Restorative Cream actually works.
I had red dry itchy skin on about 50% of my face and I'd tried several different creams over the summer and while they were OK, my problem didn't go away. I have been using this cream before bed, and in the morning I mix with my sun block. I've been using for the past few weeks and slowly but surely my skin returned to its normal healthy state. I'm now using this as my night cream and my skin just looks so healthy. I'm older senior and I'm fine with my wrinkles, but I strive to keep my skin with its wrinkles looking healthy. The cream works great and worth the price, because a little goes a long way. A friend told me her granddaughter used this cream for her dry skin and I decided to give it a try. I wasn't sure it would work as well on much older skin, but I was wrong, it just took a little longer. Great for dry skin
This has been my go to cream all year round, for years. I slather it on all my dry spots before bed and in the morning. Even on my most sensitive spots, under and above my eyes, I can use this with no problem. LovelySkin Customer
Verified Purchase
Great to repair dry skin
This is a nice cream to help with peeling and purging associated with using a retinol. Jenn176
Verified Purchase
Great suprise
The product I was using was discontinued and I was UP SET. I have been using Avene for years so I wanted to stay with the product line I ordered Cicalfate + Restorative Cream and I am delighted with the results. I look better than ever, it is so sad I can't go anywhere and show off. LovelySkin Customer
Verified Purchase
Perfect for sensitive skin!
I have very sensitive skin and this product has been just right for helping to calm flare ups as well as hydrating my skin. We travel a lot and it has been helpful for adjusting to different climates. LovelySkin Customer
Verified Purchase
Good for sensitive skin
This is great for using after any treatment at the spa or at home. Very soothing and calming. Roseangela
Verified Purchase
Love it
I love this product. I highly recommend it for the back of your hands. LeslieD
Verified Purchase
Avene cicalfate+
I have used this Cream for 3 post procedure treatments: microneedling and Brightening chemical peel combo. I rely on this product for that protective and moisture barrier my face needs after procedures. I have acne prone skin and I have not once broken out. I have relied on using this product even in between when I my face feels dry. It's perfect. LovelySkin Customer
Verified Purchase
the best healing cream
Avene Cicalfate Restorative Cream provides healing for sensitive skin that has been damaged by the environment. I experience dry, red, peeling or cracked skin on my fingers due to Eczema - especially prevalent in the winter months. I have been using Cicalfate cream every night on my hands for several weeks. It is very effective and reasonably priced and is working better than anything else that I have tried. LovelySkin Customer
Verified Purchase
Great Product!
I bought this for my mom who has skin degradation issues that, so far, were only improved through hyperbaric oxygen therapy. She spent many hours in the chamber last summer and her skin really improved but she started to have problems again this spring. It's very painful for her and she breaks down in tears all the time. Our local news shared a story of a dermatology office in town sending Avene Cicalfate Restorative Protective Cream to all the local hospitals because it helps to heal mask sores overnight. I purchased this hoping it would help my mom too. It didn't help her overnight but it DID help her after a few days. She has experienced great improvement. We have tried everrrrryy product out there and this is the only one that works. Thank you for carrying the larger tube so that it lasts longer! The only moisturizer that doesn't break me out
I have retired as an Aesthetician but I still try new products all of time. Cicalfate still remains the most effective for me. It is truly the only moisturizer that doesn't break me out and still provides the moisture my skin needs. I can't use all Avene products but this is a staple in my regime. LovelySkin Customer
Verified Purchase
Works
I bought a tube for my mom who had to get some skin cancer removed from her face. I bought another tube for me and my husband. He gets stress eczema, and this magical tube helped a lot. My only complaint is that when I tried a little on my troubled skin that was suffering from dryness around my nose, I broke out. I think it's fine in specific areas and I will use it again with caution. Sbolivas
Verified Purchase
Random Dry Skin
Every so often I get bouts of random dry skin on my face and this cream always comes the the rescue quickly! JacklynNS
Verified Purchase
Miracle
This product has done wonders for my skin. I have rosacea and when I have flare ups this is a miracle! I now use this as a night cream and wake up with such great skin! LovelySkin Customer
Verified Purchase
The best!
This cream is the bomb! It's perfect after you get a retinol peel. So soothing amd moisturizing! Was great until...
I bought this to treat my dehydrated skin based on rave reviews from other customers on numerous sites, and at 1st I thought it was great, but then I started breaking out. That's when I realized Avene puts mineral oil in a lot of their products. Mineral oil is a no go for my skin. If yours is good with it though, then I would recommend this. LovelySkin Customer
Verified Purchase