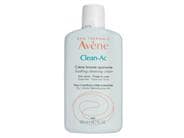 Reviews For
Avene Clean-Ac Soothing Cleansing Cream
$21.00
9 Results
Swear by this
I swear by the cleanser for use in conjunction with acne treatments and topicals. it is really gentle and soothing. I recommend this for anyone who has sensitive skin. Also, great for Accutane users. amysaesthetics
Verified Purchase
Avene cleanser
I really like this product. Originally recommended by my dermatologist. Excellent cleanser without skin feeling too dry after use. My grandson has mild acne and now uses this as well and feels like it has helped his skin. LovelySkin Customer
Verified Purchase
Dermatologist recommended
I used this years ago as recommended by my dermatologist. I forgot about it until recently. I am having a breakout of acne due to being postpartum. I know this will work to calm my ance. It's very gentle and great for sensitive skin! LovelySkin Customer
Verified Purchase
The only face wash I will use!
A dermatologist got me hooked on this over 5 years ago, and I won't use anything else. You only need a small amount, and it has a light, clean scent. I have acne prone skin. You would think you should use something harsher, but I've learned you actually need to be more gentle. This is a great cleanser, and as always, LovelySkin has the best price and samples! LovelySkin Customer
Verified Purchase
Good cleanser
I like the smell and texture. It is very soft and leaves my skin clean and hydrated. LovelySkin Customer
Verified Purchase
Great face wash
I love this face wash. Originally my dermatologist recommended it. This site costs half the price. Keeps my face clear without drying it out. LovelySkin Customer
Verified Purchase
Avene Clean-AC Cleansing Cream
This Cleansing cream Rocks! It leaves your skin soft but not too dry. It helps balance combo skin and will help all kinds of dry skin, as well. I would absolutely order this product again. I find the entire Avene line to have saved my life. I had 0 problems with my skin until recently and had tried Cleanser after Soap. You only need a drop for your entire face to become clean. I swear that Avene is the one product that does it all. It is so gentle on especially your face, that I will never use another brand again. I am not just saying this, I mean it! I first found Avene in my skin Dr.'s office, and then saw a review of it on YouTube and had remembered that I purchased a product...I immediately re-ordered almost the entire line from this site! My skin is calmed-down, less red and feeling happy these days! Thank you Avene! LovelySkin Customer
Verified Purchase
Avene Clean-AC Cleansing Cream
I a big fan of this product. I have been on acutane and needed something that could not only moisturize my face, but also clean it. Most products Ive tried moisturize, but face never feels completely clean. Glad I found this product. LovelySkin Customer
Verified Purchase
gentle soothing cleanser for sensitive skin
this is a great cleanser for super sensitive skin. it's like a "soapless" cleanser, in terms of consistency. the texture is very rich and smooth and there are no suds. it rinses off cleanly and leaves my skin feeling moisturized. i use this daily any my skin doesn't feel tight, itchy, or stinging after using. i have extremely sensitive, very dry skin. i don't have acne, but i tried this b/c i'm prone to spot break outs if i use the wrong product. this cleanser is very gentle. i highly recommend this skin for people with sensitive skin. LovelySkin Customer
Verified Purchase