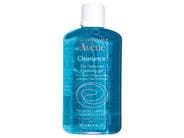 Reviews For
Avene Cleanance Cleansing Gel
$12.00
Good cleanser
Been using this cleanser for years. It's gentle yet effective in cleaning your face. Great product! julian11
Verified Purchase
Very satisfied with my cleanance cleansing gel
Soft and very clean feeling of my face skin make me love my new cleansing gel Go-to Cleanser
This has been my go-to cleanser for several years, and I love it more every year. It's not too harsh, it smells clean and fresh, and it leaves my skin feeling comfortable (not irritated or dry). I love mixing it with an exfoliating cleanser once or twice a week--just to give an extra boost to the cleansing process. ChasidyH
Verified Purchase
Negative reaction :(
Unfortunately, this product caused me a bad reaction in my skin. Don't know why but it is the first time that it happens to me. Skin feels very clean
I love this Avene Cleanance Cleansing Gel! I use it twice a week and my fave feels "squeaky" clean. I have mild rosacea and so I'm supposed to use a mild cleanser most days, per my dermatologist. But, putting this in my skincare rotation has really helped clean out my pores and freshens up my skin. Skin feels so clean and soft!
This cleanser is amazing! It leaves my skin feeling so clean without feeling dry. It has a nice gentle scent and it foams up just enough. I will never be without this cleanser. LovelySkin Customer
Verified Purchase
Avene Cleanance Cleansing Gel
I have extremely dry skin that is easily irritated. I absolutely adore this product which I have been using for over two years. It cleanse my skin but is not harsh or irritating. I definitely recommend for those having the same issues. Great Cleanser
My skin is oily with acne since puberty. I barely manage to keep under control with the use of natural/organic products, not tested on animal products, & also big brand names. I decided to try this because of my mom (thanks to YouTube), having heard positive things about the brand. I was previously using Vichy Normaderm Daily Deep Cleansing which is also a good face wash. But, I saw a difference in my skin. The texture of my skin improved little by little. This isn't a miracle cleanser, but it's as close to it as I have found so far. When used regularly, it does make huge a difference. Also, make sure to use a moisturizer after washing your face in general, as it even dried out my oily skin. To me, the scent is not unpleasant. It's soapy like the laundry softeners if you know what I mean. LovelySkin Customer
Verified Purchase
Nice face and body cleanser for teenage acne skin
Avene Cleanance Cleansing Gel works well for my teenagers with acne on their face and upper back. It is gentle yet doing a great job in clearing existing acne without drying their skin. LovelySkin Customer
Verified Purchase
Avene cleansing gel (My skin's hero)
Gentle on skin yet strong enough to deep clean pores without harm. I absolutely love this product and will continue using it, worth your money! :) LovelySkin Customer
Verified Purchase
Why isn't this fragrance free??!
I like the feeling of this cleaner, it is a gel and does the job, but I'm surprised Avene has this super fragranced cleanser! For being a line dedicated to sensitive skin, I was shocked to smell the strong scent of this cleanser. I bought the small bottle so it's not really cost effective that I ship it back, but buyer beware: this is not fragrance free! They do have a fragrance free cleansing gel that they sell in a large bottle that I will try next. Wish they had different sizes in that! LovelySkin Customer
Verified Purchase
Awesome cleaning gel!
I can only say that this gel cleanser is my all time "GO TO" face wash! This gel cleanser gently removes all the oil and dirt and even make up! I LOVE the SCENT, it is so pretty and fresh, and I use it 2x a day...everyday! I use this because I have tried other cleansers for acne and I have not had a pimple on my face in a year since using this product! I totally recommend this anyone who likes a clean fresh face! LovelySkin Customer
Verified Purchase