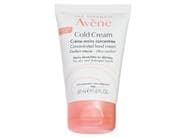 Reviews For
Avene Cold Cream Concentrated Hand Cream
$15.00
Great for rough, dry hands
I needed help with my dry, rough hands from winter weather, hard water, and frequent hand sanitizer use. This one relieves the tightness in my skin and lasts through several hand washings. It's not greasy and absorbs quickly, but I'm not a fan of the scent. It's not overwhelming, so I can live with it, but I'm hoping for a new fragrance or an unscented version in the future. Non greasy, a little goes a long way!
This is a fantastic hand cream. I was worried that it would be thick and greasy due to how concentrated it is, it's not at all! It has a very lightweight, non greasy texture that absorbs instantly into the skin. It leaves a light silky feeling behind. A little goes a long way! The bottle is small but it will last forever considering how little I need to cover both hands. I got this for the colder months to repair my dry cracked hands and cuticles. It's so fast absorbing it will likely work great year round though. Would definitely recommend! Saritameow
Verified Purchase Long lasting
I picked up this hand cream after reading the reviews and I wasn't disappointed, It has great coverage, absorbs quickly. It keeps my hands soft and hydrated even after washing throughout the day. Overnight it works great to keep my hands feeling soft and smooth. LovelySkin Customer
Verified Purchase
Great hydration in a little tube!!
This is the second time I have ordered this product. I love the compactness of this tube as you can put it in your handbag easily. Though it may seem that you don't get much product, a little goes a long way. Immediately after putting it on, it makes your hands feel slightly sticky, but it quickly absorbs leaving your hands super soft and moisturized!! Love this product! LovelySkin Customer
Verified Purchase
Amazing hand cream
This cream has restored my hands to a more plump, supple and healthy appearance. LovelySkin Customer
Verified Purchase
Good for winter or very dry skin
I do like this hand cream, it's perfect for winter. But I do not like how it smells. Could be better. LovelySkin Customer
Verified Purchase
Residue
Love Avene products but just not in love with this hand cream. Leaves a weird residue instead of seeping right in. Also has a very "perfumey" smell that I am just not a fan of. LeashMal
Verified Purchase
Thick hand cream
This hand cream is very thick and didn't feel that moisturizing to me. The smell was not as fresh or pretty as I had hoped. I really like this product line so I was disappointed in the product. I won't be purchasing again. The best part about it was the packaging & size is great for your purse. WHendricks
Verified Purchase
Hand Model
I read about this hand cream in a magazine that it was a favorite of a hand model so I had to try it. This cream has a nice light scent and absorbs well without leaving behind a greasy residue. I ran out of this pretty fast but I will definitely be purchasing again. LovelySkin Customer
Verified Purchase
Avene Cold Cream - Smooth and very nice scent
I use it for my hands every night during winter as they get very dry. The cream is very smooth to apply and it has a very nice scent, very pleasant. LovelySkin Customer
Verified Purchase
like a spash of water seal on your hands
This product is quite expensive for a hand cream but it is so unique . It is unlike the other hand creams which are just body cream inside hand cream tube, or really thick balms such as petroleum jelly or N.trogena's hand cream. It feels like a spash of avene water, yes! like water, but it seals really well. When rubbing this on your hand, I feel like cool , nice avene thermal water on my hand, and doesn't leave any residue, yet it seals moisture in your hand and works so great. I love how it feels and how this thing is so unique!! Great hand cream
I have used many hand creams but find this hand cream is the one that makes my hands feel and look so smooth. It is not heavy or greasy, absorbs quickly and leaves the hands feeling smooth. The fragrance is pleasant but maybe a little on the strong side, but I plan on purchasing it again when this tube gets low. LovelySkin Customer
Verified Purchase