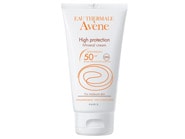 Reviews For
Avene High Protection Mineral Cream SPF 50
blends well
As part of my new skin regimen, my dermatologist recommended this to me. Blends well to the skin and has a light tint to it. If not for the price I would have given this product a 5 star. LovelySkin Customer
Verified Purchase
The Best Facial Sunscreen Ive Come Across Yet
I have a medical condition which demands I wear protective sunscreen on a daily basis and I need to reapply it throughout the day. For some time, I have been searching for something that will, first of all, work and also be less harsh on my face. This fits that bill, FINALLY! You barely need more than a drop and it feels silky going on rather than either too oily or too pasty. It has a very light tint which complements my face rather then make it orange or flaky. Or, even worse ghostly. An excellent product all around and Im very happy to a found it. LovelySkin Customer
Verified Purchase
ok
This is the second of the 2 different sunscreens that were on sale recently.I must say I was disappointed in this one too.It is supposed to be a physical sunscreen which is key for me because chemical sunscreens irritate me and cause a rash.This mineral cream has a noticeable chemical smell which you find in cheaper chemical sunscreens. Ive used it on my arms and its been all right so far but I wont risk using it on my face. Its too expensive to use just on my arms and legs. It does absorb into the skin well. LovelySkin Customer
Verified Purchase
nice application
I like this cream. I would give it 5 stars, but it seems a little expensive for the size. LovelySkin Customer
Verified Purchase
great protection
I cant go with out Avene High Protection Mineral Cream. I get the protection from the sun and get a flawless start to my makeup. LovelySkin Customer
Verified Purchase
Fave for Sensitive Skin
This sunscreen has been a skin saver for me! With Rosacea, very sensitive, dry skin and an allergy to most sunscreen chemicals, the physical sunblock along with the water resistant quality of this moisturizing, creamy sunscreen is wonderful! I am very fair so this works as a foundation, also. I add a bit of glow with Jane Iredale's bronzer duo. Love it! Hope that they never stop making it! Highly recommend! avene
para mi esta crema funciona mas o menos lo unico malo es que es muy grasosa y eso no me ayudo en mi cutis por que mi piel es grasosa pero es una buena crema la recomiendo para pieles secas LovelySkin Customer
Verified Purchase