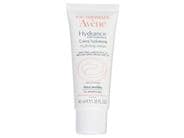 Reviews For
Avene Hydrance Optimale SPF 25 Hydrating Cream
My favorite!
I was using some other product for long time, but I changed to this one since I used first time. This product is very works for my sensitive skin. LovelySkin Customer
Verified Purchase
Excellent hydration and absorbs quickly
I enjoy Avene Hydrance Optimal 25 as a ''go to'' moisturizer. It takes a very small amount to give your skin the moisture and smoothness you look for prior to make-up. No annoying fragrance and the SPF 25 is an added benefit. Give it a try, and I don't think you will be disappointed. Avene is a great skin care line. LovelySkin Customer
Verified Purchase
Great moisturizer
I love this moisturizer. It's not making my skin oily and it has spf factor to protect my skin. LovelySkin Customer
Verified Purchase
Fabulous sunscreen plus moisture
I love this Hydrating Cream from Avene. I knew once I tried it it would work perfectly as I have dry skin and also want to have a great sun protection as well. It gives me skin a dewy and healthy glow. I use it last after my serums and I see a huge improvement in my skin. I will always keep buying my skincare products from LovelySkin. LovelySkin Customer
Verified Purchase
Avene Hydrance Optimale SPF 25 Hydrating Cream
I use this product faithfully. It is wonderful protection - lightweight and absorbs quickly. There is no tacky or sticky feeling - very loyal to this product and brand - worth the extra cost. LovelySkin Customer
Verified Purchase
I liked this product for a few reasons.
I wanted a product with no fragrance for my sensitive skin. My dermatologist recommended Avene for my body lotion, so I changed from another company's face moisturizer I was using to this face cream. I use it the same way as my other moisturizer by mixing a cream foundation, Jane Iredale Dream Tint and this face cream. I like the texture and blending capability. I wanted the product to contain a broad spectrum SPF. I was surprised with the size of the tube when I received it. It was smaller than I thought it would be at 1.35 fluid ounces. I have already ordered another tube. I wish it would come in a larger size. LovelySkin Customer
Verified Purchase
Great Sensitive Skin Moisturizer with Sunscreen
Love how its not greasy and doesn't have that heavy feeling as a cream moisturizer. Can't beat having sunscreen included! LovelySkin Customer
Verified Purchase
Great for sensitive skin
I love this moisturizer/sunscreen! It's gentle on my sensitive, acne prone skin, and it contains the perfect amount of hydration without clogging my pores. It keeps my combination skin looking flawless all day. Great for summer as it contains a good sunscreen level and leaves a beautiful glow without feeling greasy. I love Avene products because they are all non-comedogenic and hypoallergenic, which is a must have for my skin! LovelySkin Customer
Verified Purchase
Great for sensitive skin and environmental protection
I bought this product because I wanted some sun/wind protection with a moisturizer. It is thicker, so it doesnt work as well with a powder foundation. But the moisture lasts all day. LovelySkin Customer
Verified Purchase
Love this product
I live at high altitude and the air is sooo dry. This is a great quality moisturizer with an SPF25 that shields my skin every day. LovelySkin Customer
Verified Purchase
Moisture, Protection & a Beautiful Glow
I had been using Avene skin care products for about a year and then decided to try another brand. It wasnt because I didnt like Avene, but as Im 53 Im always looking for something more (even if it doesnt exist!!). So...a few weeks ago my Dermatologist gave me some Avene samples and I started using them when my other product ran out. My skin immediately felt comfortable again and my redness diminished and a glow returned. This Hydrance cream is very moisturizing, seems to protect form the sun very well and really ads some radiance to the complexion. It doesnt look white on the skin as some SPFs can. I notice that I dont need to use very much to cover my face well, oh and makeup goes on beautifully after it. I highly recommend this moisturizer. Great product!
I have very sensitive skin and this product is a great daytime moisturizer. It doesnt bother my skin at all and I love that it has built-in SPF. It is a thicker cream, so do keep that in mind when purchasing. LovelySkin Customer
Verified Purchase