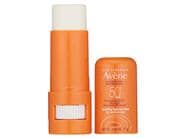 Reviews For
Avene Hydrating Sunscreen Balm SPF 50+
Terrific
I had a basil cell carcinoma removed from the side of my nose, and the nurse in the dermatologist's office recommend I use this to protect the affected area from the sun as well as to keep the area moist. It worked extremely well and I have also been using it on my lips I love the feel. After it is applied it is completely clear and has no scent or taste which makes it perfect for both of my purposes. LovelySkin Customer
Verified Purchase
Moist lips and no sunburn!
This is a great product. I used it on a trip to the Caribbean and it provided complete sun protection. Unlike some other products, it doesn't leave that waxy feeling — just nice, moist lips. Highly recommended! LovelySkin Customer
Verified Purchase
New favorite
I have only used this a few times since it's winter and I'm mostly out of the sun. It applies easily, no tugging on delicate skin. It sort of dries so it's not slippery or sticky and stays put pretty well. No irritation so far. I like that it has some zinc in it and provides some protection against both UVA1 and UVA2 rays–so many chemical-only products are either/or. No odor or scent. Great! LovelySkin Customer
Verified Purchase
Good Product
This is a very handy stick-form of sunscreen. Easy to apply, goes on smooth, and feels good. Unscented and high SPF 50 is a plus. I take it hiking with me, so I am always protected. LovelySkin Customer
Verified Purchase