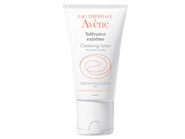 Reviews For
Avene Tolerance Extreme Cleansing Lotion
Great cleansing lotion!!!
I just recently bought the product after trying all kinds of other name brand facial cleansers - this cleansing lotion is awesome! I have allergic dermatitis on my face & so I have blotches of red, dry, rough areas around my eyes & lips, & cheeks. The cleanser cleared up my skin after just two weeks. Its really mild & leaves my face feeling soft & smooth. I love it!!! LovelySkin Customer
Verified Purchase
Worked for husband, suggested by his dr.
My hubby used this as one component of treating a bacterial infection. His face was extremely irritated, red and had a staph infection. It cleaned his skin and controlled the irritation during treatment. He used antibiotics prescribed by his dr-that is the only thing that took care of the infection. He stopped using the cleanser, but continued the cream when his skin healed.