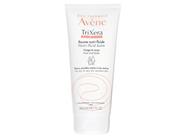 Reviews For
Avene Trixera Nutrition Nutri-Fluid Balm
$29.00
Avene for the Win!
Every product I have tried from this company has been fantastic. I used to be more concerned about spending a little more than usual on products but they have all been worth it to me. I have sensitive skin that has recently become randomly significantly drier to either autoimmune or autonomic dysfunction. This balm has helped ease my concerns with my skin and I love being able to rely on it for my skin's health. A+ Wickerparkgirl
Verified Purchase
Moisturizing Miracle
I have Sjogrens and my skin is super dry. This lotion has been my savior! The alternative is very sticky and doesn't absorb well so I feel like a tacky mess all day! Thank you for this product!! LovelySkin Customer
Verified Purchase
Soothe Eczema Prone Skin
Due to the consistent washing of hands during this pandemic my eczema has flared up on my hands! I searched high and low for a good moisturizer that could actually retain its moisture. I wash my hands several times a day and apply the lotion after each wash. However, it's really not necessary because my hands still feel moisturized after each wash… But I do it anyway because I just don't want to risk an eczema flare up. The lotion does feel sticky at first, After a few seconds it becomes smooth as butter baby! LovelySkin Customer
Verified Purchase
Acne/Rosacea
I find this product soothing. It is a greasy look so I use it if I am staying home. LovelySkin Customer
Verified Purchase
average
No special impression, looking forward to more lubrication and moisture. LovelySkin Customer
Verified Purchase
Pure moisture
Love this face lotion. Can't live without it. Fragrance free and dye free. Just pure moisture for your face. Absorbs quickly Avene Trixera Nutrition Nutri-Fluid is THE BALM!
This is one of my favorites in Avene's line of superior skin care products, for face and body! I alternate between the balm and the lotion, and stock them as my daily "go to's". This is a luxurious product at an affordable price, and has been recommended to me by numerous skin care professionals. Do yourself a favor and order both now! LovelySkin Customer
Verified Purchase
Most organic
Best cream I've used for my dry skin due to atopic dermatitis. No reactions to ingredients and no fragrance added. simply the best! Avene Trixera Nutrition Nutri-Fluid Balm
I ordered Avene Trixera because I am undergoing radiation therapy following a breast cancer diagnosis and surgery. I was looking for something that would nourish and sooth my skin. I have completed 25 "whole breast" treatments and am currently having my 5 "boost" treatments in the area where the cancer was located. My doctor reviewed the ingredients in the Trixera and said I could use it anywhere outside the oval they drew around where the boost treatments are being given. I only have three treatments left. Afterward, I imagine she will probably say I can use it inside the oval as well. I like it because it applies easily, has a pleasant smell (even though it is unscented), feels soothing and is not sticky or greasy. Carhart1017
Verified Purchase
LOVE IT!
I've used the Trixera Selectose for years. This is what they replaced it with. It's a nice cream but very liquidy. Still a good product, just not as good as the original. Desireered
Verified Purchase
Real Results
This cream helped to calm one of my worst eczema breakouts ever. I cannot recommend highly enough. LovelySkin Customer
Verified Purchase
Very good
I've been using this for my body. Is not greasy and moisturizes my skin. My stepdaughter uses for her face, and my husband from time to time in the wintertime. LovelySkin Customer
Verified Purchase