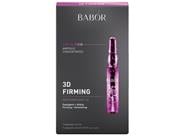 Reviews For
BABOR 3D Firming Ampoule Concentrates
$49.95
Ampoule no Serum yes.
The firming ampule didn't really firm but it did make my skin moist and smooth However the Ampoules are impossible to use. They are not particularly safe. I couldn't open the Ampoule without cracking the glass and having it shatter all over my counter. It is silly in this day and age that this the best Babor can come up with. I would not purchase again or recommend. BABOR 3D Firming Ampoule Concentrates
It makes my skin look very smooth. I love the BABOR products.