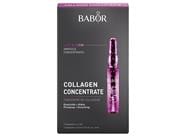 Reviews For
BABOR Collagen Concentrate Ampoule Concentrates
$49.95
Absolutely amazing!
I love how it feels, smells, and works. Highly recommended! BABOR COLLAGEN CONCENTRATE
I am a repeat buyer of this product. Love it. I use one ampoule every week. Love how it feels on my face and the fragrance is wonderful. Thank you. Collagen concentrate
I use this product once a week and am very satisfied with the plumpness it seems to have with my mature complexion. LovelySkin Customer
Verified Purchase
Great Collagen
I was skeptical about this product, but I ended up loving it. I am over 50 and want to do my best to age gracefully. I will order it again! LovelySkin Customer
Verified Purchase
Another favorite Ampoule
I was told about Babor Ampoules but thought they were too pricey. When you can find them here on discount stock up. They are amazing, after exfoliation your skin adsorbs the serum. so much better. I've tried various ones and not had a bad reaction. fiveone5
Verified Purchase
Luxurious!
I absolutely love the way this works. It plumps the skin and you can actually feel settle in during application. 1 ampoule
Yes only one ample as a sample and my skin was incredible, and my neck it's like magic. LovelySkin Customer
Verified Purchase
Plumping serum
After 1 use, the next day, my skin was glowing and soft. By day three, skin looked plump! I want this concentrate in my skin every day!