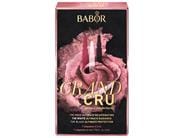 Reviews For
BABOR Grand Cru Ampoule Concentrates
$59.95
Wow!
Used this set last week, I wasn't sure if I would like the mix, but I do. So far, Babor Ampoules are great! fiveone5
Verified Purchase
Perfect 7 day reboot
This concentrate works like all the antioxidants while keeping the skin calm. After 3-4 days, my skin appears brighter and smoother. I have large pores and some sun damage.