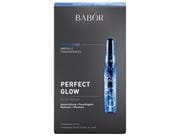 Reviews For
BABOR Perfect Glow Ampoule Concentrates
$39.95
Love it!
BABOR Perfect Glow Ampoule Concentrates work amazing. I would recommend to use them as a course or occasionally as you want to look perfect and glow. Glow!
They are amazing, after exfoliation your skin adsorbs the serum. So much better. I've tried various ones and not had a bad reaction. fiveone5
Verified Purchase
Glowing!!!
I have very sensitive skin and I love this serum. I have tried numerous illuminating serums and they all make my face look somewhat unnatural. This provides a gorgeous natural glow to the skin that is evident even after application of makeup. Plus, the serum also improves your skin, so the glow remains even into the next day! I only wish I could afford to use this product every day and not just for the 7 days worth of ampules provided in the kit. LovelySkin Customer
Verified Purchase
This is my SPA Date!!
This is a must try concentrate. It works for me, and it does give you a perfect glow!! Love it. LovelySkin Customer
Verified Purchase