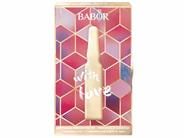 Reviews For
BABOR With Love Ampoule Concentrates Collection - Limited Edition
You can tell the difference!
I tried all 7 capsules in 7 days and can feel my skin so glow, soft and radiant. Will definitely buy other collection in Babor Capsules! Highly recommend!! Will see after 7 days
Skin feels very comfortable after using the ampoules. I was able to put this product all over my face, neck, chest and shoulders. Amazing product
Great ampoules 😊👍🏽 Works 100%