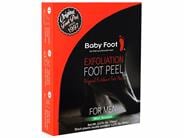 Reviews For
Baby Foot Exfoliation Foot Peel for Men
$25.00
Great product!
It really delivers! GwennieB
Verified Purchase
Unbelievable Results
I've used Baby Foot for years with incredible results. I decided to try the men's version thinking it might be stronger, or at least have more product in the socks. When my feet started to peel, I almost couldn't believe how well it worked. This product is amazing. It really helps to soak your feet in hot water before applying the socks and I leave them on for at least three hours. Amybcs123
Verified Purchase
Husband LOVED it!
My husband wasn't sure what to expect but he trusted me. And within a couple of days he started to see his rough skin fall off. By day 5 the rough skin shedding away was more substantial. And after the week, he was amazing at how baby soft his feet were! It was HIM who asked me to get more to continue using these every 2-3 months! LovelySkin Customer
Verified Purchase
Exfoliation foot peel for men
I bought this for my son in law and the women's for my daughter. They loved it! My daughter shared the after pictures and I couldn't believe the amount of peeling on their feet! They now order these on a regular basis! LovelySkin Customer
Verified Purchase
Great Product
I am a man with a wide foot and I tend to rip the traditional booties when I try these treatments. This one worked perfectly! But make sure you soak your feet daily. It speeds up the process. I will be buying this again! ChrisTuhFuh
Verified Purchase
It works
Enjoyed it, worked well with removal of dry, calloused skin. LovelySkin Customer
Verified Purchase
Great product!
I had read about this product in a magazine. I wanted to try it. Since I have big feet, I ordered the men's product. My feet have never been smoother. This product works like magic. After I used it, my feet did peel for a week or so. I highly reccomend this product if you want to have beautiful, smooth feet. Baby foot exfoliation foot peel
Awesome product!!!! Loved it!!! Thartsell
Verified Purchase
Not sure it worked
I bought this for my husband. He thought it made his skin soft, but there was no peeling, which I would have expected. Would not buy again. LovelySkin Customer
Verified Purchase
Love it!
After a beach vacation and being barefoot most of the day this is perfect! My hubby's feet were dry and cracked. Now, they are smooth and able to absorb foot cream. Will buy again!