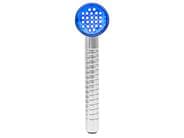 Reviews For
Baby Quasar Baby Blue Anti Acne Light Therapy
Baby Quasar Baby Blue
I turned on my blue light and a quarter of the bulbs did not come on. Obviously, it was too old. I had purchased a red Baby Quasar that I really like. So, I decided to buy a blue one. Does a great job. Easy to use. Would definitely recommend it. LovelySkin Customer
Verified Purchase
Thumbs up to light therapy
I like using blue and red light therapy to treat my problematic skin. At the time, this wand was helpful and a good idea. It was so expensive though! I used it for a long time. Now, I've found that it is much easier to use the light therapy mask. The mask I have is blue and red light. It is so easy to use, convenient, and affordable. The wand may be useful possibly if you want to spot treat, but for acne-prone skin or whole face use, I think I like the mask option more. LovelySkin Customer
Verified Purchase
It works
I purchased this several months ago and I wanted to be sure about it before I reviewed it. I have had peri-oral dermatitis for many years and have taken antibiotics for well over 25 years. I used the baby Q mainly on my chin area and I have not gone back to the antibiotics since!! I am very pleased and it was worth the price to be off antibiotics! I do find that I have to use it with some consistency, but not every day. LovelySkin Customer
Verified Purchase