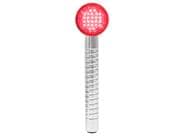 Reviews For
Baby Quasar Plus Wrinkle Reducing Therapy
Recommend
I would recommend the Baby Quasar, as I feel it's improving my skin's appearance. My skins looks more even-toned and fresh. Baby Quasar
I dropped and broke my red light. So got online at LovelySkin to see what was offered. I purchased the Baby Quasar. There was a larger Quasar MD. The penetration was the same for both only the Baby Quasar was a little smaller. Well, breaking my red light is the best thing that ever happened. The Baby Quasar is great. The smaller size is actually easier to maneuver especially around the eyes. I have been using it for 4 weeks. They say to use it 5 times a week for 8 weeks and then reduce the usage to twice week. After 1 month, I can already see an improvement. Great Therapy!!!!!! LovelySkin Customer
Verified Purchase
Best at-home light machine
I love the power this unit offers with its four wavelengths of light to deeply penetrate the skin. I see improvements in overall texture and tone as well as anti-inflammatory results in speeding up the healing of acne and reducing hyperpigmentation. Plus, it has a lifetime warranty which cannot be beat. Highly recommend. LovelySkin Customer
Verified Purchase
Surprised!
I found great improvement after 2 weeks with my skin tone. In sticking with the program and using before and after pics, I noticed a great difference in my laugh lines. I travel a lot and this piece is now a first in my luggage when packing. Loving my "new" complexion
It took nearly every bit of the 8 week treatment plan for me to see results but I have to say my creases around my eyes have softened and entire face looks more refreshed and less tired. I also feel like my complexion looks clearer, better color. I dont have to wear as much makeup either. You definitely want to follow the treatment guide, maintenance and consistency is key. And I recommend taking "before" pictures ... you forget how aged/damaged your skin was until you see how far its come with treatment. I saw no results
First of all this has to be plugged in to use which means you have to look for a comfy spot with an outlet to use it. Secondly, I saw no results. Granted, maybe im not wrinkly enough (thank you lovely skin because of all your great products) but this just wasnt for me. I gave it three stars because of the potential me factor. But it was a pain to use. LovelySkin Customer
Verified Purchase