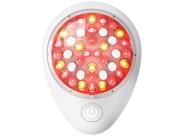 Reviews For
Baby Quasar Pure Rayz
It's okay for travel
Overall, I prefer using a different light therapy panel that I bought here at LovelySkin (Trophyskin RejuvaliteMD). That one has a face-sized panel so that I can treat my whole face in 5 minutes, as I relax. I've seen real results with that full-face light panel. I experimented with this Baby Quasar Pure Rayz for a few days when I received it. In short, I prefer the full-face panel. This hand-held device is more time-consuming to complete the multiple 3-minute sessions by area of the face, plus I have to remember to keep the thing moving during treatment, instead of just sitting there with the full-face panel. Also, I found that the goggles included with the Baby Quasar Pure Rayz were problematic for me. I keep my eyes closed during treatment, but even with the goggles on, I felt eye irritation after a few days. I switched to the white opaque eye shields that came with my light panel. Though the light seem brighter with the white shields, the eye irritation stopped. I can see through the tinted goggles, but I cannot see through the white shields, so it makes sense to me that the shields offer more protection. Your experience may vary. I bought this Baby Quasar Pure Rays because it is small and lightweight for travel, and that is how I plan to use it. I could also see this being useful for dedicated treatment on one area only. LovelySkin Customer
Verified Purchase
Pure Rayz
Love my Pure Rayz! I've been using it for about 2 weeks and already see a noticeable difference in the fine lines around my eyes and my laugh lines. Easy to use and the 3 minutes per treatment area is over before you know it. Highly recommend Pure Rayz!!! Download the app to see your progress over time. BHarrison
Verified Purchase
Good product
My skin looks more toned and my complexion appears more even after use. Haven't used it consistently to give any long term results. So far I am very pleased with my purchase and would recommend this product. LovelySkin Customer
Verified Purchase
Awesome
I purchased this when LovelySkin had a sale and I am so glad that I did. Easy to use and delivers results.