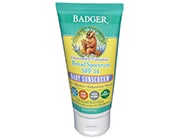 Reviews For
Badger Baby Sunscreen Broad Spectrum SPF 34
Love this!
This is the only sunscreen I've ever used on my 2 year old son. I started looking last summer and knew I wanted a chemical, non-nanoparticle sunscreen. Badger looked to be the safest so I bought it and have been using it ever since. I think it's perfect. It's not too thick, doesn't have a strong scent. My son loves the outdoors, has very fair skin, and has never gotten a sunburn, so it works well! LovelySkin Customer
Verified Purchase
Easy to Apply, Low Toxicixty
If you are looking for a very safe sunscreen at a good price, then this a good one. Highly recommend for children. Easy to apply, no funny smells, overall no complaints from my 6 month old. LovelySkin Customer
Verified Purchase
Effective sunscreen
I bought this to use on my grandchildren this summer. It always worked great, but was thick and took some rubbing to get it worked into the skin. I have used it on my skin as well and feel very protected when wearing it. Brendagrass
Verified Purchase
Great natural sunscreen
Highly effective without the chemical worry! LovelySkin Customer
Verified Purchase