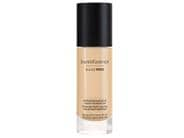 Reviews For
bareMinerals barePRO Performance Wear Liquid Foundation SPF 20
I like this foundation a lot.
I have ordered this foundation twice and it is very nice. I am pretty fair so I use the "fair 01" and a slightly warmer powder to balance it. The color is good because even though it is almost too fair by itself, it isn't too pink and has more of a neutral/peach undertone. I apply mine with a brush and it blends out easily and holds up pretty good throughout the day with a powder over it. The finish is pretty matte, but it warms up to a natural, healthy/dewy finish after a little while which I like a lot. I also use a semi-matte powder over it so if you prefer a more matte finish, you might want to use a completely matte powder. LovelySkin Customer
Verified Purchase
Amazing foundation!
I absolutely love the way this foundation glides on! It is smooth and has a nice, full coverage that does not feel heavy or look cakey. I am impressed with this and have tried many products for my sensitive skin. No breakouts either! I will buy this over and over again!! LovelySkin Customer
Verified Purchase
Better for my eyes than the powder, but still looking for the best option...
I switched to the liquid version of BM from the powder (love:), and while the foundation is still very good for my skin, helps my rosacea feel and look better, seems to recover sooner. I have oily acne-prone skin that needs a super matte, or long-wear foundation. I try to avoid the chemical additives but might have to breakdown and buy something to have on hand for days I really need help with the oil. This foundation does well enough, but after a long day shows oil, settling and movement on my face. For shorter or casual days I like this coverage (not too heavy) and the feel. Light but nice
Light to full coverage. Not thick feeling. LovelySkin Customer
Verified Purchase
Good Foundation
I ordered this foundation because reviews said full coverage, but I did not get full coverage also the makeup is very thin making it harder to apply but overall it feels good and maybe great for the younger crowd.Just not a good fit for me. Nice foundation
I like this foundation. I have fair skin and it is harder for me to find a good color match. I went with lightest color and it is a bit too light. I usually do not have that issue. I use a bronzer to achieve a satisfactory tint. Will go with a bit darker shade next time. Great!
It's a matte finish and last all day. It's not heavy. I would recommend using a good moisturizer beforehand. If your skin tends to be more oily, this is perfect for you. I use this in the winter time with a good moisturizer. klynch85
Verified Purchase
Full coverage
This foundation provides full coverage. It applies nicely and stays on all day. LovelySkin Customer
Verified Purchase
So far the best cruelty-free foundation for oily skin
I started transitioning to cruelty-free products a few years ago, and it took me a long time to find the best cruelty-free foundation for my very, VERY, oily, acne prone skin. I tried high end products, as well as drugstore brands, and everything in between. This is by far the best I've tried! (Just an FYI, I was using Estee Lauder's Double Wear before going cruelty-free). I work long hours and barePRO stays in place all day (sometimes with a couple of powder touch ups, of course). It's FULL coverage, and I apply it with an IT Cosmetics Velvet Luxe foundation brush. I get a lot of comments that my skin looks great, even though I've got quite a few skin flaws. A lot of the colors seem quite orangey, so a setting powder is necessary to tone down the color of the foundation. I have light-medium skin with neutral undertones and use Sandstone 16, and then a medium-colored setting powder. If you have incredibly oily skin like me, give this a try! LovelySkin Customer
Verified Purchase
Love it!
I love this foundation. It truly is a full coverage foundation, and it makes my skin feel and look so smooth and flawless. Definitely recommend this product. LovelySkin Customer
Verified Purchase
Best foundation
It's very light and does not cake up. Stays all day long without touch ups. Definitely will buy again. LovelySkin Customer
Verified Purchase
great foundation
This foundation is great! It is long-lasting, and doesn't feel heavy at all. I really like this and recommend you to use it. No need to buy an expensive foundation since it works just like them. LovelySkin Customer
Verified Purchase
Medium coverage. Be careful about streaks.
I switched from bareMinerals powder to this for my day-to-day wear. It's easy to apply. I've tried using a sponge, but prefer the speed of using my hands. The coverage is medium, so I do use my powder foundation for any additional spots that need coverage like blemishes or under my eyes. This formulation dries quickly, which is great because I can use my mineral powder bush shortly after application (some foundations take forever to dry!). I do have to be careful about streaking–if I don't pay attention to my nostril area or my neck. It's hard to blend this product once it has dried. LovelySkin Customer
Verified Purchase
Promises delivered
Great coverage and lasts all day. Easy application. LovelySkin Customer
Verified Purchase
Long Lasting Matte Coverage!
I originally HATED this foundation, but after finding the correct color (I had to go four shades up), and finding a technique to blend it in best (the brush that it came with didn't work well for me, but a damp beauty blender does the trick beautifully!), after properly exfoliating, moisturizing, and priming, this stuff is amazing! I use it for when I want flawless full coverage makeup and it doesn''t let me down. This stuff stays on for HOURS. I will say, I unexpectedly got a few large acne pimples on my chin after a wedding last week, and the only difference was this foundation, so not sure if that is a coincidence or not. I only use this foundation for special occasions, I normally prefer Bare Minerals Complexion Rescue with a bit of powder on top. :) Great Foundation!
This foundation has great coverage, buildable, long lasting and has a great natural finish. LovelySkin Customer
Verified Purchase
Great coverage and finish!
I will start by saying I have very oily skin, so I prefer heavy and matte coverage. I previously was a loyal user of Estée Lauder's double wear foundation because I could not find another that matched the coverage and staying power. However, my aesthetician suggested I switch to mineral makeup to help clear my acne, so once I went to the LovelySkin, I told them I was looking for a mineral foundation that had medium to full coverage and would help with my oily skin. This was recommended to me and I'm happy with the switch. This foundation is easy to build coverage yet it still feels breathable and lightweight. The finish is great! Glad it works great and it's good for my skin too! Lovely!!!
I love this mineral makeup! It feels good, and I get compliments when I wear it. I have deep wrinkles and Bare Mineral liquid does help minimize them! It is also good to use with Tretinoin. LovelySkin Customer
Verified Purchase
Best long-lasting foundation
This is impressive in that it covers very well and stays on but is still very thin and doesn't sink into fine lines. Leaves skin looking naturally flawless. LovelySkin Customer
Verified Purchase
Applies smoothly
I love this foundation. I had been using the other liquid foundation from bare minerals, but when I saw this one had full coverage, I decided to get it instead. So worth it! LovelySkin Customer
Verified Purchase