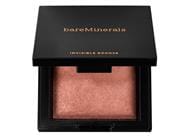 Reviews For
bareMinerals Invisible Bronze Powder Bronzer
Nice Bronzer
I'm happy with this purchase. It goes on evenly with my Chikuhodo brush. The tan is perfect for an olive complexion. It would be nice if it had mineral SPF, so I would not have to apply over my liquid mineral sunscreen. I also like that it layers well if I want more color in the evening. LovelySkin Customer
Verified Purchase
Very lightweight
This is one of the most lightweight bronzers I've ever tried, and I am a bronzer junkie! I don't think you could ever overdo it with this bronzer even if you tried, but don't get me wrong, there is definitely some color there. I am usually the lightest shade, but for this one, I went with medium and even that is super subtle! I am fairly neutral, and this is the perfect tone. LovelySkin Customer
Verified Purchase
Truly invisible
This is a good bronzer, it applies very nice and even and it doesn't get muddy even if you over apply, just leaves you with a nice healthy color, like its coming from with in. Color fair/light is just perfect for pale skin as is not too warm, just lovely. Love this bronzer!
This bronzer gives you a beautiful, natural glow. I am fair skinned, and it blends nicely with my skin tone. It will be my go to bronzer from now on. LovelySkin Customer
Verified Purchase
Highlights beautifully.
I'm a bareMinerals fan and have used many of their products. I thought the color was pretty and it turned out to be so! Adds just enough color to give my face a sun kissed glow. It can be put on darker (more layers of color) without looking scary. Consistency is nice and it does not flake off while being applied–goes on exactly where I want it. Based on how little I have to apply each time I use it, I think it will last a long time. LovelySkin Customer
Verified Purchase
bareMinerals Invisible Bronze Powder Bronzer
I use this blush everyday. It provides beautiful light bronzing. You can darken it by layering for evening. A great buy for the money. LovelySkin Customer
Verified Purchase
Great Bronzer!
This is the perfect bronzer for light skin. It has just the right amount of color, and it really evens my skin for a really nice finish. I use a tinted moisturizer and this bronzer every day and it has become a definite must have. Highly recommend! LovelySkin Customer
Verified Purchase
BEST BRONZER
So, facts first, I am a pale cool toned skin gal, and I love a little warmth, but almost every. single. bronzer. I have tried ends up being too muddy & orange for my skin tone. This fair one DOES WONDERS to warm my skin without making it look "off" and "dirty." With my previous bronzer my mother-in-law thought I had dirt on my face... ugh. This is flawless, natural, and gives a warmth from within glow that I am in love with!!! People have asked me what kind of foundation I use and I have to explain that it isn't just the BM foundation, its the bronzer too!!!! Good replacement
I previously was using Skinny Dip bronzer by bare minerals, and liked immensely- for the color and texture. Sadly it's been discontinued but I received this as the company's recommended replacement. I like it, and the color is similar, although texture is not. LovelySkin Customer
Verified Purchase