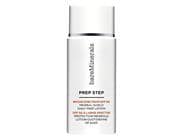 Reviews For
bareMinerals Prep Step Broad Spectrum SPF 50
Must have
I am so happy I found this product. It initially has somewhat of a white cast (I have light-medium skin) which fades quickly. Extremely good under makeup and on its own. It doesn't dry matte, but if you continue to massage/rub it into your skin, the slight oiliness goes away as well. Great product overall. Still Leave White Cast on Medium Skin Tone
My search for mineral sunscreens is pretty challenging because my issue with it is white cast. I have Asian Medium Skin, with yellow understone, so most mineral sunscreens leave me horrible white cast. I'm not going to minimize the amount I apply to get away from white cast, so it's quite hard to find that perfect one. This one still leaves me white cast, but I would call it "acceptable" white cast. It lightens my complexion but not too ghostly white. The texture is lightweight, it spreads out white but then dries and absorb into skin. If your skin is fair to light-medium, it is perfect for you. But if you're medium to deep, you still can enjoy it as long as you apply makeup on top. I'm that person who wear sunscreen alone, so my quest hasn't ended here. LovelySkin Customer
Verified Purchase
Bare Minerals Prep Step Sunscreen
Best sunscreen protection without the heavy zinc thickness and white chalk look. LovelySkin Customer
Verified Purchase
Favorite SPF ever
This works so well under makeup and has a great percentage of Zinc Oxide! I have already repurchased! LovelySkin Customer
Verified Purchase
A Must Have!
I knew the first time I put this on that it was something I would use every day. It goes on smooth, feels great, dries fast, and SPF 50. I have put this on everyday this summer. It is perfect under makeup or on its own. I immediately ordered a second bottle. LovelySkin Customer
Verified Purchase