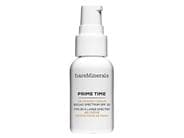 Reviews For
bareMinerals Prime Time BB Primer-Cream Broad Spectrum SPF 30
Need more colour options
Goes on smooth but it makes my olive toned skin gray :( LovelySkin Customer
Verified Purchase
Packaging is the only problem, but a real one
Agree with other reviewers that the packaging will keep me from buying again. OK at first but when you reach the last third you have to open to get the product out. Since it's quite creamy, it's a mess (you need to shake the bottle upside down), and I ended up discarding it because of that, even though there was still quite a lot of product left. Really a shame because the tint (light for me) is perfect, and it sets to a very attractive matte finish, perfect for combination/oily skin. Will buy aging only if it comes in a tube, it's far too thick for a pump dispenser. Ideally a 2 oz. tube so it will last longer. LovelySkin Customer
Verified Purchase
pump dispenser needs improvement
I really like this, but by the third time using it, I began having trouble with the pump dispensing the product. Not sure if I will buy again unless they change the pump bottle for a tube. LovelySkin Customer
Verified Purchase
Light and airy makeup and sunscreen in one
Love this BB primer and sunscreen! When I am not going out, I put it on for the day and for a sunscreen! When I am going out, I wear it under Bareminerals makeup! LovelySkin Customer
Verified Purchase
Good product
Didn't feel like it reduced oil at all, but it did allow my makeup to last longer. Good but not great product. LovelySkin Customer
Verified Purchase
Use Prior to Foundation
I use this and the Glo pressed powder foundation. They work great together. LovelySkin Customer
Verified Purchase
Soft Skin 101
Bare Minerals first came out with their original primer and I didn't think I needed it, but after some consultation I found it had many benefits that would serve me as I got older. Now with the B.B. cream added it's even better!!! My skin is so soft to the touch and I have that extra layer of protection! My Bff uses it alone when in a hurry!!! LovelySkin Customer
Verified Purchase
A fan of BE!
I like most BE products. It has a light feel and has spf which is must. I am fair and bought the lightest tint. I let it dry and use BE mineral powder with spf 15 over. I have sensitive skin along with mohs surgery for skin cancer and have found that BE is the best makeup for my skin. LovelySkin Customer
Verified Purchase
good for everyday use
It is a good everyday primer. I noticed my skin is soft and moisturized after the first use. I would buy it again. LovelySkin Customer
Verified Purchase
Great product
This is the first BB Primer I have used and I loved it. It added moisture to my dry skin and a nice base for my foundation. very versatile
I really love it, sometimes I use it without foundation and it still looks great, works really well under foundations also. LovelySkin Customer
Verified Purchase
My new best friend
I never thought I would find a primer that could enhance the finish of my bb cream/foundation and prevent oiliness throughout the day until I met this one. I have repurchased because I simply am not happy with my finish without this primer. I am 57 with minimal wrinkles. I have light/med skin tone and am normal to dry. I highly recommend at least giving this a try. You may fall in love with it like I did! LovelySkin Customer
Verified Purchase
Another Great Primer
I have a few primers that I love from BareMinerals and this is added to the list. The slight color helps even out my skin tone. Plus, it has an SPF of 30! I will make sure to always have this product on hand. LovelySkin Customer
Verified Purchase
No More Oil
I have very, very oily skin, and tried this out a while ago. Love it the first I used it. Used under BareMinerals SPF 20 Foundation, and the foundation lasts all day. I love this stuff. Cant wear foundation without this stuff. Great SPF and Healthy-Looking Skin
I started using Bareminerals BB Primer-Cream with SPF 30 over the summer while on vacation. Who wants to mess with foundation and a full face of makeup when you know youll be outside soaking up the sun and likely to "glisten" with the inevitable humidity of summer? Bareminerals BB Primer-Cream was perfect. I used the "light" shade and it matched my face and neck perfectly with just a hint of color to even and perfect my skin. I just added a little mascara and I was ready to go. Is this product just for summer? No. I have continued using it on days I want to look good but not "made up." Great stuff
I really like this primer bb cream.. It has everything... SPF, PRIMER, AND TINT!! I have been using BareMinerals powder foundation for 10 years now & this primer underneath works wonders, It helps the product stay longer, it gives me skin a more dewy look. I use shade Medium Beige in the powder, so I ordered the medium primer , it works great together.. Keep in mind that this product has a light tint, it is not full coverage.. good product