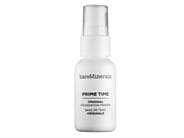 Reviews For
bareMinerals Prime Time - Original
$26.00
Perfect Primer
Works great under mineral foundation. Not oily and leaves my skin soft and supple. LovelySkin Customer
Verified Purchase
Make up primer
The Bare Minerals original formula primer makes my face feel smooth and silky. It is very gentle and it only takes a tiny bit to cover the whole face. Sctyb25
Verified Purchase
Good primer
Does the job great, wish it masked pores better LovelySkin Customer
Verified Purchase
My GoTo primer for Oily skin
I use this (Original and tinted) as my Go-To primer for BM makeup as well as under other brands. I have oily acne-prone skin with Rosacea. I use physical block sunscreen before applying the primer and it all still works very well together. I like makeup better with this than without it. Good primer for oily skin
I use BM primer with other BM products for my oily skin. It gives a smooth finish and nice base for the BM matte foundation. Very little goes long way. Will buy again. Love It!!
I love everything about this primer! It goes on smoothly and makes my skin feel so soft. It does a great job of diminishing fine lines for the application of foundation. A must-have in my make up routine. LovelySkin Customer
Verified Purchase
Love this stuff!
This is the best primer I have ever used! It is mattifying and really evens out your complexion before applying your makeup. I cannot apply my makeup without it. I notice too much of a difference! Without it, my makeup looks dry on my face, doesn't last as long and gets oily much quicker. The only complaint I do have is that it does not prevent your face from getting oily hours later. If there is a primer out there that does what this does and prevents shine throughout the day, I can't wait to get my hands on it! Coverage for pores
This product works great over large pores. I also mix a little primer with the powder foundation for the nasal area and the coverage lasts all day.. LovelySkin Customer
Verified Purchase
BareMinerals Prime Time
I really like this primer. It goes on smooth, makes my skin feel soft, and helps make my foundation last all day! Would definitely recommend trying this out! LovelySkin Customer
Verified Purchase
Fades away too fast and a too tiny bottle
I was surprised at the size, very tiny bottle that does not last long enough. The cosmetic is transparent color with thick gel like liquid. It seems cover the unevenness on applying but it does not stay on throughout the day. I wouldn't buy it again and not recommend it either. LovelySkin Customer
Verified Purchase
Okay primer
This primer is okay. I'd say it's good for moisturizing dry skin but I also feel like my nose gets more oily than normal when I use it under my bare minerals original foundation. I don't think it's worth $25 though. LovelySkin Customer
Verified Purchase
Silky Smooth Finish!
It has been difficult to find a primer that works with my skin type (oily skin). Often times I have found my makeup looking glossy or caked. When I began to use bareMinerals Prime Time, I noticed a huge difference in my makeup. With over 100°F temperatures in Arizona, my makeup still fought the hot days without looking cakey. My foundations and powders hold to my face throughout the day and night. This has been my go to primer ever since! LovelySkin Customer
Verified Purchase
bareMinerals Prime Time - Original
My esthetician gave me a sample of this my last microderm with her. My pores aren't super huge, and due to using good skin care products I have very little blackheads, but I always want perfection. So, she suggested I try this and I love it. Glad I found it on LovelySkin. LovelySkin Customer
Verified Purchase
Pretty good
This product works well. Its clear so its great for all tones. Its a gel which makes it easy to apply. I only wish it can control oil and minimize pores. But it does a great job keeping your foundation on. Love this primer!
Really helps yor makeup go on smoothly, and helps it last all day! Also, does not even feel like youre wearing any makeup. LovelySkin Customer
Verified Purchase
Great Primer
I have tried many different foundation primers from very expensive high-end brands to those available at mass market stores. Bare Minerals Original Prime Time works the best both alone and under makeup. It diminishes the look of pores and wrinkles and gives makeup staying power. Its a small bottle, but less really is more. You only need one pump to cover your entire face and neck, so the bottle lasts a long time. LovelySkin Customer
Verified Purchase
Worth every penny!
I never used anything under my foundation before but once I started using this I can not be without it. It helps my foundation go on more evenly and smoothly. Its a must have! LovelySkin Customer
Verified Purchase
Nice result
Helps with a smoother application of the foundation LovelySkin Customer
Verified Purchase
Great primer
works well and makes make-up look a lot better! LovelySkin Customer
Verified Purchase