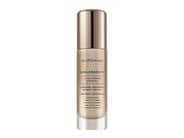 Reviews For
bareMinerals SKINLONGEVITY Vital Power Infusion
so soothing
This serum has a calming effect on my skin and leaves me feeling moisturized. I have notice almost an immediate use, which improves with time. It seems like it clears my skin as well. Plus, the scent is gentle and pleasant. LovelySkin Customer
Verified Purchase
Superstar Serum
I've struggled to find a serum for a long time that I can wear during the day that doesn't clog my pores, make me look oily and actually benefits my skin. I've been using one pump of this in the morning before my moisturizer and haven't experienced any breakouts and have already noticed my skin looks and feels better. It's more even and less red. Love! LovelySkin Customer
Verified Purchase
Silky & Softening
Not sure about the main purpose of this, but I love the smell and feel of it! I actually prefer to use this on my neck, rather than moisturizer due to the light feel of it! Moisturizer often feels heavy, sticky or greasy and when you wear blazers almost every day for work, this is perfect! Refreshing!
I love the smell and the way this serum absorbs into my skin. It does add a healthy glow, and I see an immediate difference in the tone of my skin. I do require a heavier serum on top of this for my mature skin. Feels nice on the skin
This feels nice on the skin and absorbs well. I noticed that it brightened up my complexion within a few days of use, but that is all I noticed. No dramatic changes with dryness or youthful look. I like the size of this bottle because the amount lasts for a long time. I have stopped using it because I have started trying out other serums, but I still kept the bottle in case I want to go back. Feels like silk
Visible results with daily use! LovelySkin Customer
Verified Purchase
I don''t know what it is about this...
So, firstly, I love this stuff. Now, the odd thing is I don't know what I love about it. I always feel refreshed after I apply it, and I feel like my face just looks NICE. I haven't seen any dramatic improvement, and every time I empty a bottle I say I'm not going to repurchase, but then a few months later I just MISS THIS SO MUCH and convince myself I need it again in my routine and repurchase. I don't know what it is about this, but, it smells wonderful, soaks in quickly, and it just feels refreshed. I love it, and in fact bought another bottle today! LovelySkin Customer
Verified Purchase