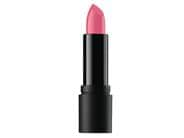 Reviews For
bareMinerals Statement Luxe-Shine Lipstick
2 Results
Just what I was looking for!
First time trying bareMinerals lipstick, and I am very pleased! Glides on nicely, does not bleed and feels so soothing, not heavy and thick! Mixed Bag of Nuts
Some of these lipsticks are lovely! But a few are NOT. Let me start my saying that I really enjoyed a few other colors from the statement line (elite being my favorite). HOWEVER, TEASE really was such a tease! It's the perfect color for my complexion, however, Pretty Color, Poor Formula in the shade Tease. The formula is super thick but doesn't completely cover my lips and even starts to pull off them, especially near the inside of my mouth. I have NEVER had this issue with a lipstick before. I even exfoliated before applying, then exfoliated and applied a clear moisturizing lip balm, but alas, this Tease formula really won't sit on my lips.