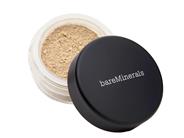 Reviews For
bareMinerals Well Rested Eye Brightener SPF 20
$23.00
Star quality
This product is marketed as an eye brightener, but I have oily skin and live in the south and use it to cover hyperpigmentation and pimples, it works great! I would recommend it for this. Not my favorite
I was curious about this product hoping it would promote a brightening effect under the eyes with or without makeup. I tend to stay away from powders under the eyes as they can accentuate tiny lines causing the skin to look dry.. Unfortunately, my curiosity got the better of me. I purchased the product and my suspicions were proved right. My under eyes were brighter, however all I could see were dry lines. I won't be purchasing this Bare Minerals product again. mamascotti
Verified Purchase
Nice subtle shimmer
My skin and eyes are very sensitive. Since I've been wearing bareMinerals foundation for years with no problem, I knew I could trust their under eye concealer. This provides a nice amount of coverage and shimmer. A little goes a long way. LovelySkin Customer
Verified Purchase
easy to use
I love this product. It is light weight and works wonders on my eyes reducing the look of fatigue. Love it
I like how this brightens my under eye area. I've used it for years. LovelySkin Customer
Verified Purchase
Great eye brightener!
I put this powder on after concealer and I find that it really brightens the eye area while also minimizing the appearance of bags. LovelySkin Customer
Verified Purchase
Perfect for fading under eye dark cicles
This is brilliant—no shimmer. I am 74 years old and this works perfectly for me. A few practice eye makeups, and I got the hang of using it, particularly in the inner corners of my eyes. Well rested is exactly how it looks. My daughter in law now uses it too. bareMinerals Well Rested Eye Brightener
Excellent product. Illuminates my eyelids giving me a fresh look. Eliminates the need for eyeshadow. Does not accentuate the wrinkles. LovelySkin Customer
Verified Purchase
Gives a boost
I like this eye brightener. I don't think it is amazing enough to love (or give 5 stars), but I do reach for it often enough (about as often as I reach for my foundation to apply under my eyes). I particularly like it when I am going for an all powder look, I will say that I don't have any other powder products that compare favorably with this one. But, I have super very fair skin, so I think this may work better for Light/Medium Light skin tones. :) LovelySkin Customer
Verified Purchase
Night Owl's BFF
You know those nights where you were up a little too late? You have no sleep from a new baby, or you just have terrible dark circles? Well Rested is the best!! I wear it over Bare Minerals Bisque and it looks like I slept for 24 hrs not to mention it makes my eyes 👀 Pop!👏👏👏 LovelySkin Customer
Verified Purchase
Eye Coverage Powder
This powder works well, by just lightly blending under eye area to show a well blended make up scheme, not too heavy which works better in sensitive area. Works best with a (BM) Brush (Wet/Dry Shadow) or similar, to get into the small crevices around the inner eye areas and just under the lower lids. This can complete the look and you can rest for that 100% coverage look, as usually foundation should not go under the eyes and liquid concealers cannot get the natural look as well as this nice powder does. LovelySkin Customer
Verified Purchase
Not my favorite
This is not my favorite BM product. It makes my eyes look dry. LovelySkin Customer
Verified Purchase
Great concealer
I've been using bare minerals powder concealer for years and love the coverage for both under eye circles as well as discoloration spots on my face. I will continue to use and order this product. LovelySkin Customer
Verified Purchase
Well Rested my favorite product!
I am thankful to have found that I can also use this as a concealer over my acne and age spots. I don't even purchase concealer anymore. I have been using this for several years now along with Jane Iredale Amazing Base loose powder. I laugh when people say, "You have beautiful skin! I would never guess you have problems." LovelySkin Customer
Verified Purchase