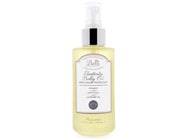 Reviews For
Belli Pregnancy Elasticity Belly Oil
Smells great and hopes it works
This product has a great fragrance but the oil is pretty thick so it doesnt exactly spread all that well over my big belly. I usually have to squirt a couple of times to get an all-over complete spread. So far I havent seen any noticeable stretch marks but they say that stretch marks really cant be prevented by lotions/oils and is mainly dictated by genetics. However, this oil does provide moisturizing effects to prevent itching from the stretch. After application, it does absorb well. LovelySkin Customer
Verified Purchase
Love it!
The fragrance is wonderful. It quickly absorbs into skin and never feels greasy. You don't need a lot to apply it and the bottle last long time. LovelySkin Customer
Verified Purchase
Pregnancy stretchmarks
I love this product. Smells and feels good while keeping your skin totally smooth and stretch mark free LovelySkin Customer
Verified Purchase
So far, so good!
I've been using the Belli Elasticity Belly Oil this to help prevent stretchmarks. A friend recommended it after she used it with good results during her pregnancy. So far, so good! I've been applying it to my belly and breasts after I step out of the shower. It has a light chamomile scent which is calming. The oil absorbs quickly so I can apply lotion and get dressed.