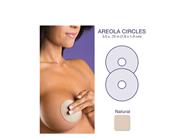 Reviews For
Biodermis Epi-Derm Areola Circles
Not worth it
I had purchased this product for my scars after breast reduction surgery to decrease scarring and assist with healing. I had used a silicone product purchased from a doctor which was great but pricey, so I started using ScarAway. This was great too and held well. After reading reviews, I decided to purchase this item and am really dissatisfied with it. It comes off during shower, highly irritates my skin causing to itch greatly, and is quite large. It's not worth the price. Highly disappointed and would recommend a lower priced item or something other. LovelySkin Customer
Verified Purchase
Great coverage
I love these areola silicone sheets. They're super sticky and easy to apply. They provide great coverage as they're kind of big in circumference. I got the clear so you can't really see them when they're on, but they are thick. I highly recommend these for any scarring around the areola. LovelySkin Customer
Verified Purchase
Great for scars
I'm impressed. I bought one pack and wasn't sure how it would retain the adhesion. I used mine for about two months and could still get some more uses out of it. Cleaning can be a bit of a pain ...you will experience skin that sticks to the adhesion when you remove it. I didn't buy the clinque clenz to clean it but you would probably have a better & easier time if you buy the cleaning solution. Over all, I''m happy with the way my scars are healing and I think it''s all thanks to biodermis. LovelySkin Customer
Verified Purchase
Scar Minimizer Patches
I've been using these scar minimizing circles for almost 4 months and I can tell you that my scars (from breast reconstruction surgery) are looking really good. I've had multiple surgeries and cannot believe how faint the scars are becoming. My plastic surgeon advises I keep using them until the scars completely fade - which might be a few more months. Well worth the cost (especially when on sale) and I highly recommend them. LovelySkin Customer
Verified Purchase
So far so good.
Have been using one set for 3 weeks and they are still sticking great. LovelySkin Customer
Verified Purchase