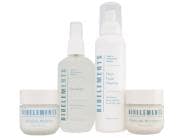 Reviews For
Bioelements Starter Kit Daily Essentials for Combination Skin
Great deal
Flashfoam, Equalizer, and Absolute Moisture are critical to my everyday routine. Unfortunately, Measured Micrograins isn't really for me. I need the power of Pumice Peel as my exfoliator. It is still cheaper to buy this for just the three products I will use than it is to buy just the three separately. I just wish they made the kit with Pumice Peel! LovelySkin Customer
Verified Purchase
A+ Skincare
Ladies listen up! I started using this kit in 2008!!! I had horrible acne when I was young and vowed wrinkles were not going to happen!!! This is like having a professional facial in a box!!! Makeup is a choice, but skincare is a must, and Bioelements is the only choice!! No matter your skin type they make a box to fit you!!!🌹 LovelySkin Customer
Verified Purchase
Great value and products
I love this starter kit and it's a great value as well. I have been using it for three weeks now and these products work great together keeping my very oily skin under control ALL day and my skin looks brighter and smoother. I have purchased a lot of products overtime and I am loving every product that I have purchased from the bioelements line. LovelySkin Customer
Verified Purchase
You get your money's worth
These products are full sized so they last around 2-3 months. This combo does not leave your skin dry or irritated and it does provide a matte finish. The measured micrograins is such a great exfoliator which I usually use as a mask for 10 min. My only complaint is the moisturizer does not have spf. LovelySkin Customer
Verified Purchase
The perfect set!
I have been using Bioelements products for years ever since I received a professional facial using these products. My skin tends to be oily in the T-zone and this makes my skin feel fresh and clean but also retain moisture. LovelySkin Customer
Verified Purchase
Bioelements Cleanser
My favorite is the Bioelements Cleanser. LovelySkin Customer
Verified Purchase
Perfect for Air Travel
I purchased this kit for a week long vacation that I did not want to check a bag for. The product sizes were great for fitting in a carry on bag and going through security. The products themselves also worked very well. I ended up buying the full size versions after my trip. LovelySkin Customer
Verified Purchase
Nice set
I purchased this kit and a new skin care system. Overall, I am satisfied with the ease of use and results. The products are gentle to the skin and my skin feels good after use. I especially like the micrograins product. The reason I rated it a 4 and not a 5 is because the foam cleanser is very light in consistency and not as effective as the other products. LovelySkin Customer
Verified Purchase