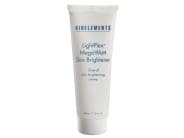 Reviews For
Bioelements LightPlex MegaWatt Skin Brightener
First Time Brightener
I've been using the Bioelements LightPlex MegaWatt Skin Brightener for about 6 weeks. This is the first 'brightener' that I've used, so I wasn't sure what to expect. I use it at nighttime only along with the GigaWatt Dark Spot Corrector. So far, I've definitely seen an improvement in the evenness of my skin tone. I don't know, yet if I will be adding this product to my long-term skincare routine, but right now I feel like it is doing a good job of correcting my current issues (i.e. dark spots from old acne scars). I also like that it has a very mild scent and thin consistency that is easy to apply. Seems to be working
I've only been using this for less than 3 weeks, and it's definitely lightened some of my hyperpigmentation. It's certainly still visible but lighter than it was. Smells good too! Dawnmarie7373
Verified Purchase
Spots fade and brighter complexion
This is a lightweight moisturizer that can be used day or night. It does what it claims: spots fade and the complexion brightens. I prefer to use this every other night, alternating with Sleepwear. Another Perfect Product
This seemed to be a good possibility to help with dark spots and even possibly help to fade a scar on my cheek after having a cyst removed in January. I spoke to the Biolements aesthetician and she suggested this wonderful product. She was confident I would see improvement in my dark spots and possibly the scar as well. It's only been a short time but I can see a little improvement already. I'm so happy. LovelySkin Customer
Verified Purchase
Very effective!
This was recommended to me at the salon where I have facials done, for sun spots on my cheeks. It is wonderful! I saw results in a couple of weeks and my skin continues to improve. Those sun spots are definitely fading. Other people have noticed the difference also. Im very happy with this product! LovelySkin Customer
Verified Purchase
A Beautiful, Brighter You
I absolutely LOVE this Bioelements product. It truly does brighten your facial skin - making it appear brighter and more youthful. I have very fair skin and it really has made a difference in the appearance of my skin - I have had several people note. It also is such a lightweight, gentle cream which feels wonderful on your skin. Plus, you only need to use a little bit to make it work. Kimberly
Verified Purchase