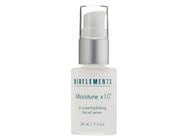 Reviews For
Bioelements Moisture x10
Love this product!
I have been using this Moisture X 10 for years! I use it have the Power Peptides step and then put moisturizer over it. It gives me moisture all day long. I live in Minnesota and it is especially good during the winter months. LovelySkin Customer
Verified Purchase
The bomb
I have combo skin but in the winter it is rather dry. I had been using the regular moisturizer until I had a sample of the moisture x10. It made my skin feel silky and smooth I'm an outside gal and it has been great protection all day Highly recommend this product Bioelements Moisture x10
I love this hyaluronic acid product by Bioelements. I apply it right after cleansing my face and before the moisturizer which makes it absorb better. I would recommend using it only at night if your skin tends to be more on the only side or just by itself in the morning. Great job of hydrating my skin and neck. Bioelements Moisture X10
What a great product. Recommend it highly, especially in dry climates. Doesn't make your face feel greasy. I will be buying this product again. LovelySkin Customer
Verified Purchase
Smooth & hydrating
Love this product. It goes on silky and it retains moisture throughout the day! My husband keeps stealing it for his face. It's a winner that I will purchase again! JenNoel
Verified Purchase
Wonderful moisturizer
I've been using Bioelement's Recovery Serum daily since I was introduced to it and have loved it. I decided to try Bioelement's Moisture x 10 to compare. Its light and very effective. I now use Moisture x 10 as my daily moisture serum and also continue to use Recovery Serum after more than normal sun exposure and/or at least once per week. Moisture x 10 is a great moisture additive for my 60+ year old skin. LovelySkin Customer
Verified Purchase
Love
Have bought twice. Not heavy. Love this product
I have been using this product for over 3 years and I love it. I live in AZ and need to keep my skin hydrated and this works for me. I use it every morning before putting on my sunscreen to keep the skin on my face and neck feeling moist. Midnight
Verified Purchase
Bioelements Moisture x10
Extra moisture for dry skin! I layer this serum on as the first layer during my dry skin days to help with hydration. I let it absorb and then add my next layer of product. I feel Moisture x10 does give me the extra hydration I need. Really deep hydration
This product is a must for dehydrated skin. It keeps skin feeling richly hydrated all day long. I use it both morning and night. Wouldn't want to be without it. MUST HAVE serum for dehydrated skin!
Without a doubt the best serum I have ever tried (I have tried so many expensive and well known serums!). This one is perfect for my dry and dehydrated skin. Normally my skin feels dry in afternoon, even if I applied serums and day cream in the morning, but not with this amazing serum! It just gives so much moisture and lasts all day. Karolina
Verified Purchase
Miracle during the Chicago/Boston 2019 winter
I purchased the Moisture x10 and Recovery serums summer/fall 2018 after I loved samples received from a facialist (who did the best blueberry peel ever!) Of the two serums, I found myself using Moisture x10 every day underneath my makeup during the harsh winter and my skin was soft and glowing (my best skin ever) all day long. A year later, I still haven't run out of the Recovery serum, which I use sparingly post exfoliation and as it's more expensive and it does less for me, I won't be repurchasing Recovery serum. Moisture x10 however is a true miracle worker, and I ran out of the 1 oz bottle so fast. I will definitely be rebuying and adding to my skincare routine as the weather gets cold once again. Hydration
Bought this product years ago it used to come in a tube. Glad to have found it again on lovelyskin.com. Very hydrating product for my face. LovelySkin Customer
Verified Purchase
Bioelements
I use this when I need a little more moisture especially when I'm exposed to dry winds or cold winter days. LovelySkin Customer
Verified Purchase
love it
I love this serum. I use it with bioelements moisture x 10. the price was the best price I could find AND free shipping! LovelySkin Customer
Verified Purchase
Moisture x10
I love all the Bioelements products I have tried, this being one of them. It immediately locks in moisture to your skin. My skin was so dehydrated from the cold winter air and after the first time, my skin was perfectly hydrated. I only use it every third day because I have combo oily skin which doesnt need a lot of moisture. If I do use it every night, my skin is shiny the next day which I do not like!! So I would recommend this product to dehydrated types and people who are water dry, not oil dry. LovelySkin Customer
Verified Purchase