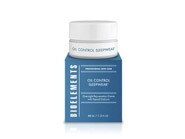 Reviews For
Bioelements Oil Control Sleepwear
Wonderful!
I switch between this and 2 other products for nighttime, and it does a great job controlling oil! Great product tetemik
Verified Purchase
Finally a moisturizer for oily skin
This moisturizer has really been a life-changer for me! I''m a little older with combo/oily skin, and have been looking for an appropriate nighttime moisturizer for years. This is it. It DOES moisturize, and at the same time has helped reduce some of the excess oil production in my t-zone. Like other Bioelements products, a little goes a long way, so it really is a very good deal. LovelySkin Customer
Verified Purchase
Loving this product!
I have been using this product for about three weeks now. This is the only product that I have used that actually does what it claims to do. I was skeptical at first thinking here I go again, but pleasantly pleased. I have really oily skin and this helps a lot with that as well as making my skin so soft and I can tell a difference in the appearance as well. Love this product. LovelySkin Customer
Verified Purchase
Food for your skin
This product is amazing. I have been running on 5 hours of sleep and my skin doesn't look tired. A little truly goes a long way with this product. I have noticed my pores are smaller and my skin looks moisturized. It's a plus that I do not wake up with an oily face and my face is not as oily throughout the day. LovelySkin Customer
Verified Purchase
Best night cream for combination and oily skin
I have been using this product for years. It has a light gel-cream texture and pleasing scent. I have combination skin and this helps to tame my T-zone, particularly during the summer months and during stressful times. This also decreases the appearance of wrinkles within 20 minutes of application and this carries over into the next day. I will purchase this item again and I highly recommend it. Wake Up to Soft Skin
We had a harsh winter this year, and without intervention my skin would have been dry as bone all season long. Now that the weather has started to warm up, my esthetician recommended that I start using Bioelements Oil Control Sleepwear at night. The goal is to prep my skin overnight so that it can be more hydrated throughout the day. If your skin is adequately hydrated there is no need for your pores to try and compensate with oil. Like most people, my skin tends to get oily as temperature and humidity increases. Ive noticed that after using the Bioelements Oil Control Sleepwear I wake up to soft skin. The formula is gentle enough not to cause dryness, but strong enough to keep oil at bay. The product is creamy in a liquid sort of way (almost like a watery custard). It always feels really good to apply this to my skin at the end of the day. LovelySkin Customer
Verified Purchase
good product but did not work for me
this is nice but too heavy for my skin. i ended up breaking out from this, but it is a nice product if you are not very acne prone Amazing results
I have acne and very oily problem skin. This product does not make my skin breakout. It really helps to control my oil. My skin looks clear and great in the mornings. I have been using this product for the last 3 years after a nice professional facial. My skin has improved overall. I love this product. LovelySkin Customer
Verified Purchase