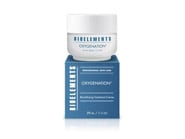 Reviews For
Bioelements Oxygenation
Another Bioelements favourite !
Without a doubt THE BEST day cream for a dehydrated and dull skin—if you like a healthy glowing skin (I love the glow it gives my skin). If you like your skin more mat, this might not be the best choice (Crucial Moisture is more mat, and also amazing for a dry skin). Karolina
Verified Purchase
Good
Only used for short time but seems to be very hydrating. LovelySkin Customer
Verified Purchase
Skin booster
As I'm aging, I've been putting more effort in maintaining my facial skin than in my early 20s or 30s. This product seemed to provide some extra boost to my skin to be healthy and remain looking youthful. LovelySkin Customer
Verified Purchase
great product
I use this product daily and get a lot of comments on how beautiful my skin looks. LovelySkin Customer
Verified Purchase
Terrific for Stressed out Skin
This has just enough tree tea oil and hydrogen peroxide to truly leave really tired, sluggish feeling skin VERY refreshed. It has a moderate slip, is neither greasy nor drying and does leave the face feeling purified and revived. It is not as moisturing as some of the other Bioelements products and would likely be good for both normal and combination skin as well. I have mature, dry and dehydrated skin and have been using this mostly during the day under the Bioelements SPF 50 Sunscreen Cream which is more moisturizing and have really been pleased with how theyve worked together for me. My face is much brighter and actually feels more alive in the few weeks Ive been using it. And not one of the four products I purchased have broken my face out or been too greasy or too drying. My skin just looks plumper, more hydrated, my wrinkles more softened and, much to my surprise, more awake than its felt in years. If I had one complaint about this particular item it would be the size which is considerably less for the price than some of their other facial creams, but its still a product I like and would buy again regardless because anything that can actually make a tired, stressed out 64 year old face feel terrific is worth the investment to me. LovelySkin Customer
Verified Purchase
Oxygenation
I use this at night in the winter to hydrate my combination skin. My skin gets oil dry and since this has lavender oil in it, it instantly hydrated my skin leaving it plump and juicy. Also help unclog my pores and keeps bacteria at bay. Really lovely.